January 27, 2021
Time Equals Distance
11/8/2020:
There are countless times when I've told stories of events that happened to me, only to be interrupted by a close friend — "Hey, that didn't happen to you, it happened to me!"
I believe I'm not intentionally stealing. It's just that I've spent so many years with the stories that barriers between experience and imagination begin to dissolve. I've observed the people who have called me out for copping their memories morph and convolute these same stories over time. The imperfection of memory can be an incredibly generative (generous?) tool.
I'm sitting here in Evergreen, Colorado, using a pen to re-transcribe notes I typed from handwritten notes of 24 hours in San Francisco. Filling gaps with pencil, commenting on myself. As I grow further from my notes, memory begins to write the story. I witness myself fudging details for the sake of convenience. How much of this will I forget in a week? How much reality have I already re-written?
Inside me sits a companion essay, a map of years spent escaping isolation in pursuit of connection. Of shifting priorities in the face of limited options. Something to explain the interconnected web that brought me back to the mountains of Colorado, my belongings in storage in Chicago and my partner on the Western edge of the country. The essay outlines my escape from the creative isolation of Denver, the debilitating depression of Chicago winter, the alienation of that vibrant city muted by quarantine. It offers an explanation of why I've driven 19.5 hours straight, without using public restrooms, with my partner and my parents from the mountains outside Denver to San Francisco, in the middle of a global pandemic. Why we spent 24 hours in SF with my partner's parents and aunt for my partner's birthday. Why my partner stayed in SF as my folks and I drove 19.5 hours straight back the next day.
There's another internal essay here, about the photo in my bio. It talks about John Lake snapping that photo during my first visit back to Denver after moving back to Chicago in 2018. About me borrowing a camera from John for this project the day before leaving, knowing full-well that I wouldn't develop the film in time for my deadline. About how on the night before picking up the camera, Ustina sent me a link to a fundraiser for an arts center I used to work with. About seeing the same photo from my bio for sale on the fundraiser and buying it. About how, on the day I was supposed to pick it up, I didn't want to drive down to Denver, because the way I found out about the election results was from one person yelling "yahooo!" at the top of their lungs and another person discharging a rifle into the air immediately after.
–
11/6/2020: I'm thinking about the experiences I can't comprehend. The voids between learning and knowing, whose distances, no matter how infinitesimal they may appear, are impassable.
–
11/8/2020:
Above is a photo from the same drive five years earlier on the first and last tour I went on with Golden Hour, a band Jim and I made up so he could see California for the first time.
Below is an example of a practice I've unintentionally maintained since 2014 — recording voice memos of photos I'm unable to take.
Audio: Artyst pic (dec. 9, 2019)
---
Audio: George Reading Poem
11/5/2020: After returning home, I realize that in trying to record without George noticing, I must have bumped the "input" on my field recorder and switched it from the microphone to the inputs, commanding the recorder to document its insides, rather than the world around it. This "silence" may be the first non-poetic silence I've ever recorded — a time when the living perceiver isn't present to intrude.
11/8/2020: (I open the file in Audacity and zoom in as close as possible on the waveform, just to make sure there actually isn't any sound. There isn't.)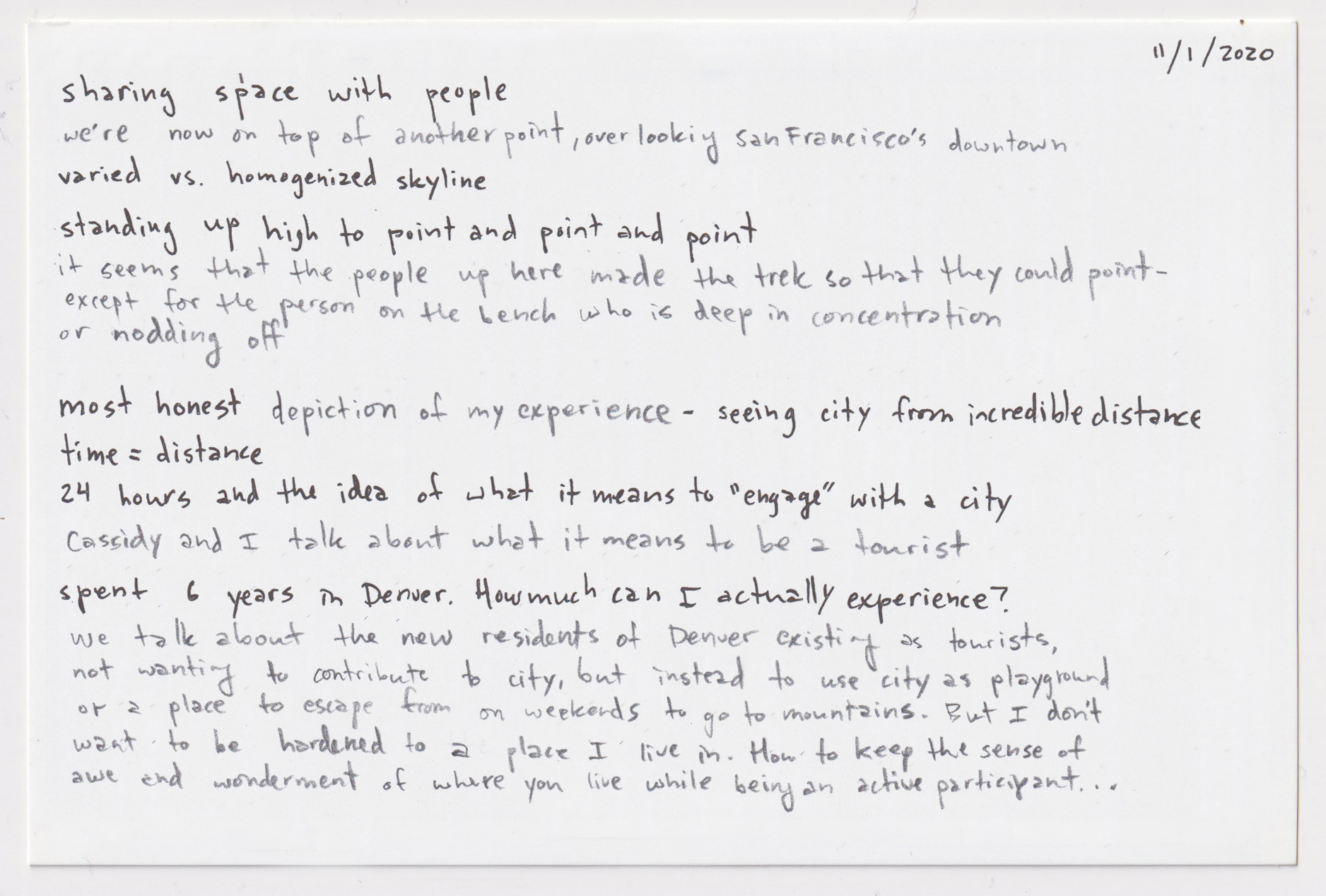 Prince of peace: Hamid Drake remembers Toshinori Kondo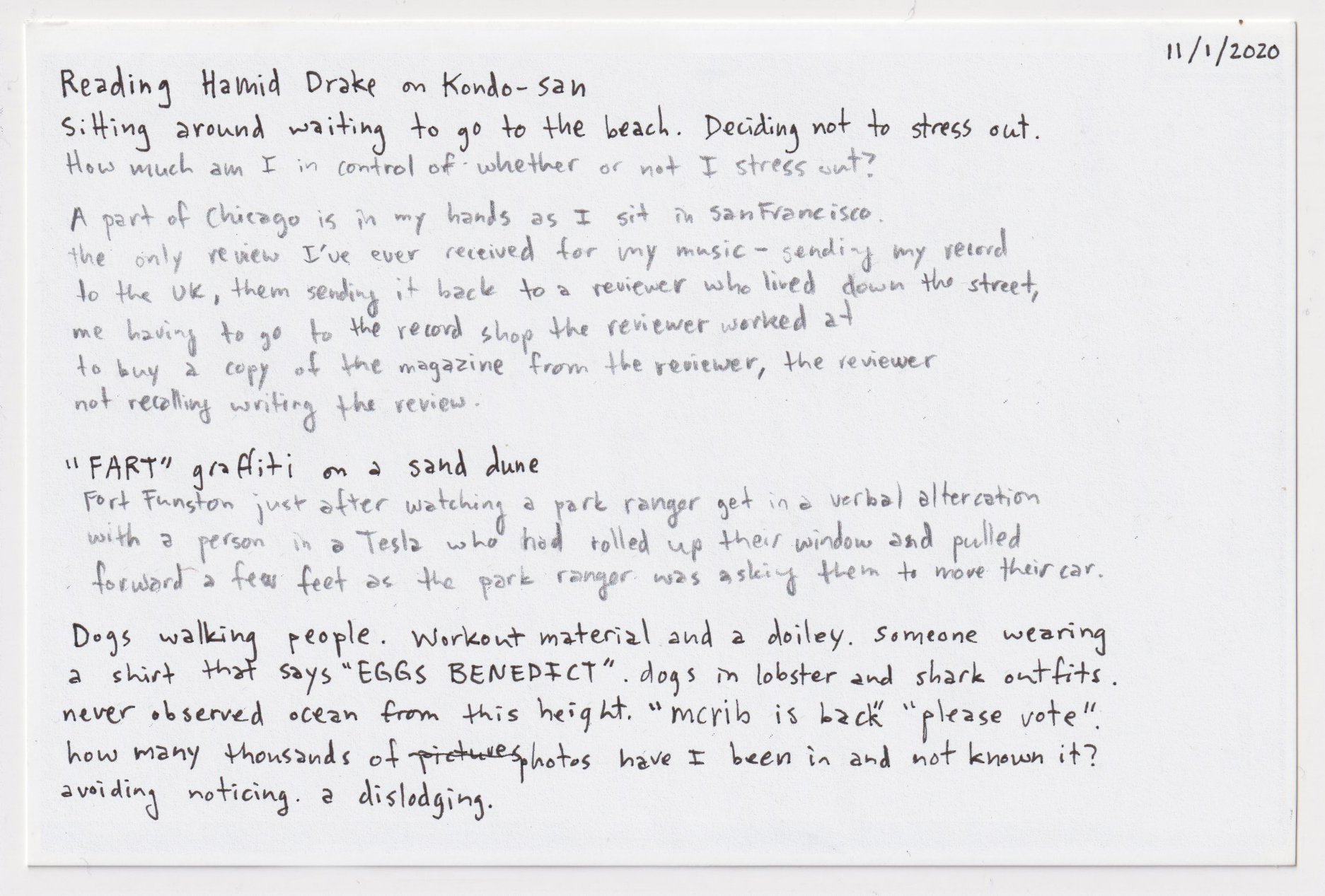 11/7/2020: I remember feeling gratitude for the invitation to notice. For the past eight months, I have been avoiding observing my surroundings as much as possible. On this day, it was my job to take note. On multiple occasions, I mentioned to Cassidy how looking, listening, feeling, tasting, and perceiving are some of my favorite ways to spend time. How I was finally reminded of that joy when I gave myself permission.
Audio: Fort Funston
11/8/2020: The drawings above remind me that I thought it was 10/31 all day.
please do not sign up for $potify if you don't already have it. it's not worth it.
Audio: North Beach
11/8/2020: It was a cookie, not a sandwich.
Audio: Judah St
Audio: Ocean Beach
11/9/2020: Every tour I've been on doesn't feel over until I step into the shower at home and wash the road off me. This time, all magic sloughs away the instant I slump into the backseat. My dad takes the first leg of the 19.5 hour drive back.