March 03, 2017
[ THIS ] HORSE HAS ALREADY BOLTED
On February 4th, 2017, Open Space presented an afternoon of conversations and performances at CounterPulse, as the culmination of this Lost and Found series. After my brief introduction, the day unfolded with Monique Jenkinson and Helen Shumaker in conversation; a performance lecture by Keith Hennessy; and a short presentation by Rhodessa Jones, who then joined a panel discussion with Annie Danger, Xandra Ibarra, and Brontez Purnell. That conversation spun out of the theater and into the streets, transforming into a SpiritualDiscoGrievingDanceRitual led by Amara Tabor-Smith and featuring Brontez Purnell and Marvin K. White. Among the audience members that day were Sampada Aranke, Kelly Lovemonster, and Margaret Tedesco, each of whom we asked to respond, however they wanted, to their experiences. –clr
---
The following images and links are culled from my personal archive and an array of other sources. They represent the "key words" from the conversations and presentations in Lost & Found: Bay Area Edition, which invoked a correspondence to my Bay Area history, and beyond — an impact I share with many and the work that carries us all.
I would like to thank the participants and organizers [Annie Danger, Keith Hennessy, Xandra Ibarra (La Chica Boom), Monique Jenkinson (Fauxnique), Rhodessa Jones, Claudia La Rocco, Brontez Purnell, Helen Shumaker (Mona Rogers), Amara Tabor-Smith, Marvin K. White, CounterPulse… and the many artists who came to mind represented here] for a thought-provoking day of dialogue and performance.
Crows
One is for bad news
Two is for mirth
Three is a wedding
Four is a birth
Five is for riches
Six is a thief
Seven is a journey
Eight, is for grief
I have become overtly aware of crows and ravens as of late — the weather, for one, and our current climate.
In animal symbolism, crows and ravens are often interchangeable. If one is associated with a characteristic, the other adopts the same trait. Greek myth says crows were white, but when the crow brought Apollo bad tidings about his lover, he turned the crow's feathers black.
Crows can be a symbol of death and war, and of the cunning. Some believe their presence signals change, anything from a new beginning to impending death. Countless cultures point to the raven as a harbinger of powerful secrets — a messenger, whose business is in both keeping and communicating deep mysteries. The raven symbolizes mind, thought, and wisdom.
In Vanessa Renwick's video, 9 Is A Secret, crows are a continuous and ominous presence.
Voiceover: the narrator tells us the origin of her middle name, Renwick, Scottish, from her great grandmother "from where the ravens roost."
Crows.
She listens, aware of the forewarning as a crow perches outside her bedroom window.
Her words empathically wrap us. We are brought to attention inside the other's body. She recounts his unimaginable suffering and pain, a litany of her friend's symptoms and conditions — lost containment, no longer able to hold his own physicality.
We imprint ourselves — emotional contagion.
She is summoned by her friend to assist in his suicide. A risky, generous act.
"He asked me to help him die, I obliged." We are complicit.
Unapologetically beautiful, the matter-of fact and alarming steadiness of her cadence follows the nursery rhyme — in rhythm with her steps comes a sequence of events.
She calls the airlines… "It's all so expensive, won't someone fly me for free so I can go and kill my friend."
We hear numbers hypnotically pacing her narrative — numbers: the nursery rhyme, crows circling, the friend's list of illnesses, the recipe for dying, travel months after death, the find, ravens spiraling, unfold a future warning.
"When he died I entered the backwater of silence, a space that is between life and death, and I stayed there for some time."
The second time she recites
Crows
One is for bad news
Two is for mirth
Three is a wedding
Four is a birth
Five is for riches
Six is a thief
Seven is a journey
Eight is for grief
"Nine, is a secret"
In numerology, 9 is the number of completion.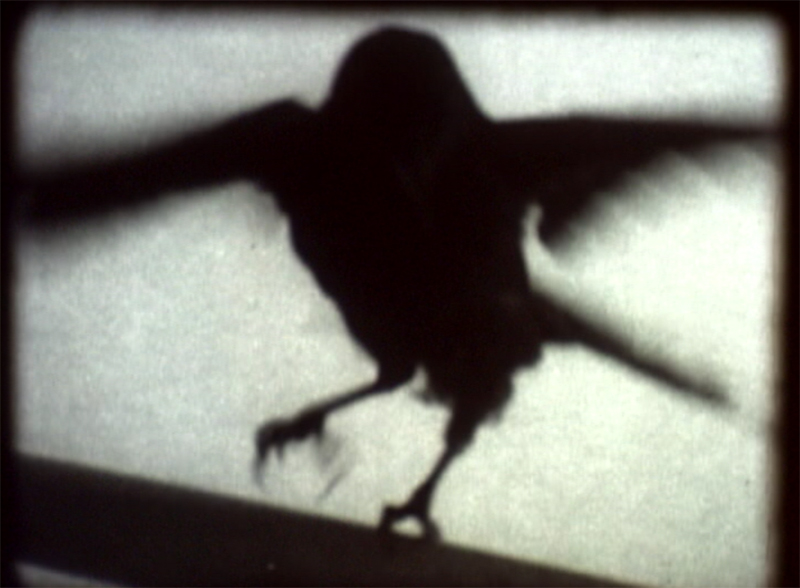 •
I asked T.:
"Will you still love me when I am dead?"
"I will disappear, I will have hidden nothing."
— Hervé Guibert, The Mausoleum of Lovers Journels 1976–1991, translated by Nathanaël, Nightboat Books.
1984 was the first time I heard of "gay pneumonia." Charles Butts, friend and colleague in the dance company I worked with, left Santa Barbara with a simple cold for a two-week break to visit his friend, San Francisco choreographer Carlos Carvajal. He never returned. I received a call from one of the company members on the pay phone in the dance studio telling me he died.
•
NEA Demonstration.
Karen Finley, Tim Miller, John Fleck, and Holly Hughes became known as the NEA Four after then National Endowment for the Arts chairman John Frohnmayer vetoed their grants in June 1990, even though their applications had been approved by peer review. The artists sued over this "decency clause" decision, eventually settling out of court; the NEA, meanwhile, bowed to pressure from lawmakers and ceased funding individual artists.
•
Pedagogue
Stuart Marshall, Neil Bartlett: 1988, 10 minutes, color, sound, UK.
•
ACT UP Oral History Project
The project is coordinated by Jim Hubbard and Sarah Schulman.
•
•
Laurie Anderson, "From the Air"
•
•
Bob Ostertag/Kronos Quartet, All the Rage, 1993.
In 1991, an estimated 10,000 people rushed on and set ablaze the California State Building in San Francisco. Bob Ostertag transcribed his recording of this gay rights riot into All The Rage, a notated score for performance by the Kronos Quartet, which was eventually included in Steve Elkins' feature documentary The Reach of Resonance. In 2010 Elkins found one of the organizers, Gerard Koskovich, and interviewed him in San Francisco.
•
•
The Golden Age of Hustlers captures an insider's experience of the 1970s gay hustler scenes of pre-HIV/AIDS era on San Francisco's Polk St.
Performed by Mx Justin Vivian Bond. Song by Bambi Lake. Co-directed by Silas Howard & Erin Greenwell.
•
A mashup of the words "indigenous" and "burrito," Indig/urrito was Nao Bustamante's way of marking the 500th anniversary of America's conquest. The spectacle of white men kneeling to take a bite from the burrito strapped to her pelvis served as symbolic and absurd apology for the centuries of oppression that followed. At the same time, Bustamante excoriated funders requiring that artists address this topic in order to get support.
•
Exhibition was divided into nine sections: Void, Self, Drag, Other, Couple, Family, Orgy, World, Utopia.
•
•
•
On Disco
"Of dancing in San Francisco in the early 80s and of the too many to count who have danced to this song but who are now dead from AIDS, and of the possibility that any disco dance is also a Ghost dance, an ancestor dance, a blessing and an invocation. The Hustle is one of the dances of my people."
—Keith Hennessy at Lost & Found: Bay Area Edition
The Trammps, "Disco Inferno".
Sylvester.
•
For ten years, beginning in the mid-1980s, David Gere served as co-director of the Bay Area-based Talking Dance Project, a California organization dedicated to bridging the gap between artists, critics, and audience members.
•
Tracy Rhoades
•
The High Risk Group: stills from Black Sheep Boy, director, Michael Wallin (1948–2016). Text: David Gere book.
Rick Darnell moved to San Francisco and lived at two artists' live/work spaces, Studio Four and 1800 Square Feet. Performer and choreographer with The High Risk Group, a men's dance group.
•
•
•
•
•
•
•
•
•
•