April 24, 2013
File Under: Pranks, But No, Really, Maybe This Is a Good Idea
Some museum staff were recently relocated to new office digs in preparation for our big expansion. Working late one night and perhaps under the influence of too much fluorescent lighting, I took it upon myself to repurpose this prime office real estate. You know what they say, when life gives you some drab, recently vacated office space, make some official-looking signs and carpe diem.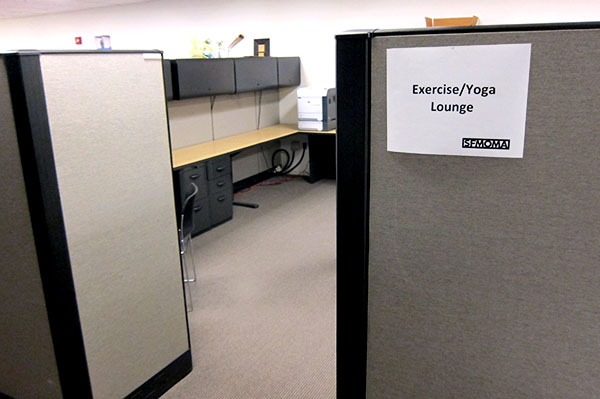 The new impromptu spaces were a hit around the office, both with staff who immediately sensed their dubious provenance (a prankster in our midst!), and those who thought the spaces authentic. What began as a small, lighthearted joke turned into something real — one staffer's Pilates ball made its way into the Exercise Lounge, and another staffer has been using the Meditation Room for his evening prayers since the night of its inception.
After a few days word had gotten around that, no, these space weren't *officially* designated for meditating or yoga, leading other staff to join in the fun by declaring their own playful reclamations of these spaces.
So Snøhetta, if you're reading this, please take note: the people have spoken! In our new building we'd like a place for contemplation and napping; and a place to stretch, practice our handstands, and the occasional human pyramid.