This, from recent SFMOMA visitor Dave McLean's Flickr photostream, expresses an emotion one understands people do occasionally feel in the galleries: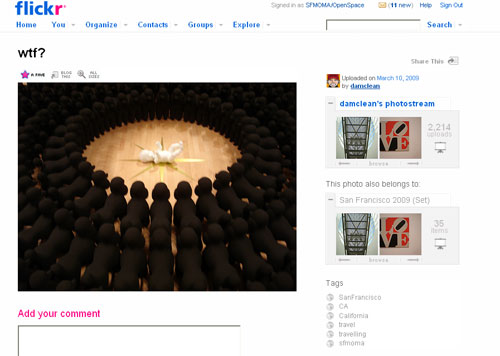 The snapshot is of a work on view now, Kind mit Pudeln (Baby with Poodles), by an artist I like quite a lot, Katharina Fritsch. From this work's description in our collections pages online, here's one answer to the WTF?
Four circles of 224 poodles, arranged in tight, densely packed rings, surround an infant poised on an eight-pointed gold star. The points of the star create eight radiating axes by which the poodles are aligned. The result is a stunning visual play of repetitive patterns in space.
Fritsch's intention is to lodge an indelible visual image in the mind of the viewer, indissolubly fusing experience and memory. Although some viewers may find the poodles threatening, they also appear to be on alert watch, guarding over the child. And despite the ominous atmosphere, a strange undercurrent of humor is present in the quirky oddness of both the poodles and the baby.
Fritsch chose the poodle as a dog that is cute and beguiling but can also be aggressive and mean. Soon after completing the piece, she recalled that a poodle appears in the story of Faust, retold in a nineteenth-century novel by Johann Wolfgang Goethe that is known to every German schoolchild. While out walking, Faust sees a black poodle and brings it home, unknowingly inviting the devil into his study. The baby suggests the innocence of children at birth, untouched by evil and misfortune. As it begins the journey of life, it must face the tensions of civilization and the potential for corruption.
By the by, pics of these poodles are super popular on Flickr right now.