November 13, 2008
FREE BEER!
For serious, I have been waiting to post that headline for over a year.  Starting tonight! and for the next three months, we are hosting Bay Area conceptual artist and sculptor Tom Marioni's weekly salon, The Act of Drinking Beer with Friends Is the Highest Form of Art. If you're not familiar with this work, Tom has been organizing these salons, where friends and artists can convene, converse and drink beer, in his studio and elsewhere, for more than two decades.
Each week we'll have special guest bartenders and readers, & I'll try to keep you apprised: tonight's bartender is Rudolf Frieling, Curator of Media Arts, and the reader is Mr Tom Marioni himself. Do come by! It's free, with museum admission of course; keep in mind that space is limited (see below). Entry will be on a first-come, first-served basis. Like any drinking establishment, you must be over 21 & carrying vaild ID.
Here's Tom's FREE BEER sculpture as we have it in our collection (and as you can see it on view now on the fourth floor as part of AoP)—the piece is made from the detritus of the salon as it was exhibited/hosted here at SFMOMA in 1979:
Here's the bar set-up in the Koret Vistor Education Center, ready for bartenders to dispense FREE BEER and for art lovers and friends to drink it happily and I hope noisily together:

And here are the still QUITE EMPTY (as of today) shelves which will hold and store our many emptied bottles of beer: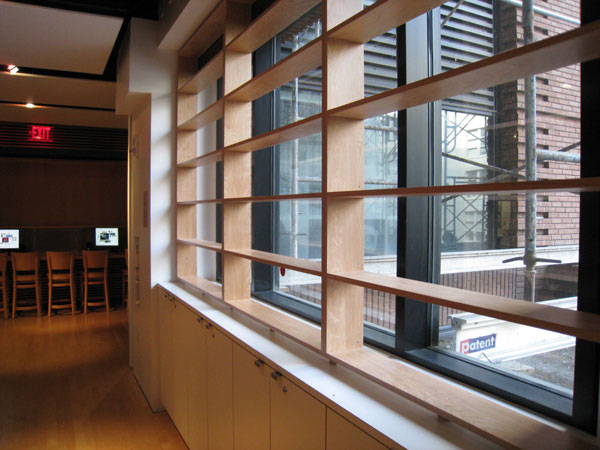 No one lacks expertise in this particular form of art, or if you do, now's a great time to hone your skills. Come on by, or, we hope to see you soon!