February 01, 2021
Why my home has no walls
"If food is the cinema, we are Bollywood."
—'Mamak Rap' by Jiven Sekar, Youtuber
Boss, minum apa?
I couldn't answer at first. I was standing by the sidewalk, drenched, hungry, and frazzled at midnight. I had rushed out of the theater to have supper with members of the cast; just before I reached my destination, the humid night air broke and a torrential downpour blessed me. Of course, who carries an umbrella during the dry season, right? The only certain thing on my mind now was a mug of hot teh tarik at the mamak to chase away the chills.
Boss, minum apa? he asked again.
Yes, the mamak, the friendly Indian Muslim eatery seemingly in every urban and suburban Malaysian neighborhood. It lies at the heart of each community, defining what it means to be "us" 1: With thirty million people split across more than sixty ethnicities in a country the size of New Mexico, the mamak is one of the few things we have in common.
When I was in secondary school, an outing at the mall inevitably ended at a mamak, for sustenance and auditing the day's shopping haul. It was where we could all go without worrying about our various religious dietary requirements (all mamaks are halal). For the price of a cup of tea cheaper than McDonald's, we could hang out for as long as we wanted. And later, when I worked in a sleek office tower in downtown Kuala Lumpur — somewhere at the side of the building, with tables on a laneway — was a mamak. It was that unpretentious third meeting place for discussions if things got too intense or too cold in the office upstairs.
The mamak is where millions of us shared the experience of watching our team win the world cup of badminton — the Thomas Cup — on a large screen TV. The cheers and tears of joy from that night stay with me, though it's been twenty-eight years since our last win (but who's counting?).
The mamak is where I've argued politics, moaned about relationships, brainstormed with colleagues late into the night, and shared some (OK, a lot of) gossip with friends and family. And it's the first place I go after travels abroad — the mamak gifts the first tastes, aromas, and flavors of my country. All over a teh tarik, a roti, and other distractions. The diversity is astonishing: sweet, sour, spicy, hot, cold, vegetarian, non-vegetarian. Visual menus entice you to keep falling off the diet wagon and yield to the comforting embrace of rotis, thosais and curries, noodles and rice, juices and iced desserts.
But what personifies the mamak is teh tarik 2: black tea leaves or tea dust, sugar, sweetened condensed milk or evaporated milk, and hot water decanted back and forth between two large stainless-steel mugs to mix, froth, and cool it all at once. For the uninitiated, at full blast the average teh tarik is achingly sweet. It is this sweetness that ingratiates it to Malaysians (i.e. me), becoming our de facto national drink — and, why, among other things, a high rate of type 2 diabetes has become a major public health concern.
Hello Boss, minum apa?
Hello Boss, what would you like to drink?
I come to this particular mamak almost every day and each time the same waiter proffers the same question, an almost-comforting repetition.
Teh tarik, kurang manis, Boss.
Teh tarik, less sweet, Boss, I reply, heeding the public health concerns.
In a nation of huge income disparities, where highly sought, royalty-bestowed titles instantly elevate you in the eyes of society and people are constantly reminded of their place in the hierarchy, we appreciate the quaintness of being called "boss" at the mamak. Both the server and the served are the boss; here we are all the same. It is not an act of sarcasm or irony. A high-powered CEO might share a meal with his driver, and not be boss and employee for a few moments. You'll find a Muslim breaking roti with her Christian and Hindu friends. Single moms with kids next to retirees, college grads and non-grads, all enjoying their 40¢ teas. There simply is no other place like this for us.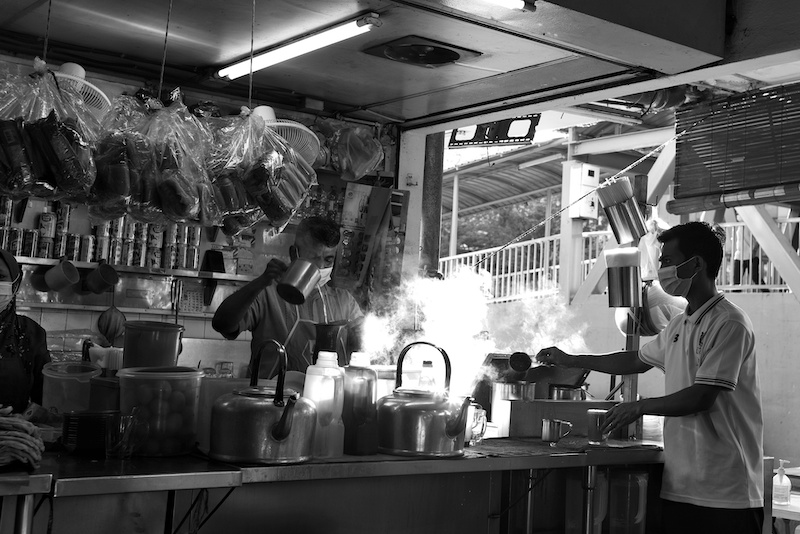 Why should this be so? I think a lot of it has to do with the physical openness of the typical mamak restaurant: no walls, windows or doors, literally "open" to all (including mosquitoes). Metal tables are arranged in long rows or clusters to maximize seating, with their square plastic counterparts often spilling onto the sidewalk and even the street. At night, popular mamaks routinely take over parking lots, enlivening streets into the wee hours of the morning. With no "special" areas and no reservations taken, it's first come, first served, only.
It might also have to do with the menu being historically open to all manner of diverse culinary influences: as long as it's halal, they'll find a way if that's what the customer likes. Which explains a proliferation of Thai tom yum-infused noodle and rice dishes. The latest bubble tea fixation from Taiwan and Korea has been embraced by mamaks, too. Teh tarik bubble tea, anyone?
That rainy night, as my friends kept up the chatter, my eyes wandered to the kitchen area where I could see my tea being prepared. Whoosh! The tea streamed from one giant mug to another. Whoosh! Up, down, left cup to right cup, the man pulled the steaming, milky liquid through the air, hands and arms a blur like Keanu after he became The One.
Suddenly the drama was over; the teh tarik was poured into glass mugs, each crowned with a good head of froth, waiting to be served to Table 6. In that first sip, I let the taste of home wash over me before I rejoined the chatter.
Malaysians understand our population as consisting of three main races, the Malays, Chinese, and Indians, which are further organized into numerous ethnicities, each with distinct dialects and, in many cases, cultural practices. Orang Asli are the natives in Peninsular Malaysia, for example, and are generally divided into three major groups, the Negrito, Senoi, and Proto-Malay. In East Malaysia, Sabah's population consists of thirty-two ethnic groups, including the majority, Kadazandusun; while Sarawak's population consists of twenty-seven ethnic groups, with Iban the major group.