October 02, 2013
League of F.A.M.E. Draft Recap
The League of F.A.M.E. draft night was a big hit! There were controversial picks resulting in league-wide votes. There were cheers, there were jeers, and plenty of beers. It all started with the owners choosing their team names. And without further adieu here they are in the order of their draft position:
Conrad M. Meyers II (Aggregate Space) – Jackson Bollocks
Kathy Jaller (CJM) – PRtists
Robert Shimshak (collector) – COCO-BOB
Steven Wolf (dealer@ Steven Wolf Fine Arts) – The Something Something Art Cliche
Sarah Hotchkiss (SOEX) – Switchblade Sisters
Will Brown (Will Brown) – Will Brown
Andrew McClintock & Jamie Alexander (SFAQ/Ever Gold Gallery – Park Life) – Art Is Dead
Brian Andrews (Bad at Sports) – Bad at Sports
Leigh Markopoulos (curator/CCA) – D.U. Champs
Below is a pic of the draft board…
And here are some pics from the event…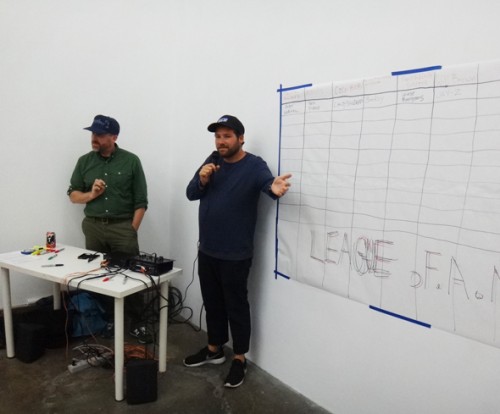 Jay-Z an artist? This might have to go to a league-wide vote!
Voting was brutal!
Now commence with your game faces! This is The League of F.A.M.E.
and IT IS ON!