July 21, 2011
Third Hand Plays: "Something" and "Telescopio" by Benjamin R. Moreno Ortiz
Benjamin Moreno Ortiz is a Mexican writer and artist living in Querétaro, an industrial city with a rich historical center, about two hours north of Mexico City. His first novel, Signos de la Amnesia Voluntaria, was very well received. A little less than two years ago he became fascinated with digital poetry, and in a short amount of time built up a body of interactive and video works which he dubbed "concretoons," which can generally be described as irreverent, conceptual satires on issues dealing with poetry and the literary figures in Latin American and Spanish poetry. Like much concrete poetry, they are very cleanly executed with careful attention paid to typeface, color, and other visual elements, but with the addition of motion and interactivity; in digital art terms, they could be called "wordtoys," the literary analog to the interactive audio pieces dubbed "soundtoys."
Despite there being very few words in most of Ortiz's pieces, the few there are involve complex puns and often allude to the names and works of literary greats. For example, his conceptual video game "nokianor parra" collides the name of the once-dominant cell phone company with the great Chilean poet Nicanor Parra, author of the groundbreaking Poemas y Antipoemas (1954) and other works. As one plays, the letters from the first line of his poem "La Vibora" ("The Snake") become the tail of the little thingie you are guiding, at once giving you a modicum of literary satisfaction while making gameplay a hair more difficult as you avoid both the walls and the growing text. Another piece, "Brossa vs. Noigandres," is a recreation of Asteroids using text, imagining some superstellar battle between the great Spanish poet Joan Brossa — known for his sculptural text works as well as his love of complex forms such as the sestina — and works by Brazilian Concrete poets such Décio Pignatari and Haroldo and Augusto de Campos, known collectively as "Noigandres."
While one might not be able to discern a strict meaning to the concretoons, the general thrust seems to be a celebration of the continuing dialog poets have had with visual and conceptual art by demonstrating the vitality of their concepts in the digital realm — in fact arguing that, given the ubiquity of technology and algorithmic play in our daily lives, these once marginal figures (or the more marginal elements of their practice) may finally take their place at the table. As conceptual video games, they have a small but interesting poetical heritage in the work of Neil Hennessey (Pataphysical Software Company), creator of Basho's Frogger and Pac-Mondrian, but an even richer tradition might be found in the work of artists including Stuart Davis, Lawrence Weiner, Bruce Nauman, and Ed Ruscha, who, while continuing to be visually compelling, lifted the use of text beyond design elements into richer dynamic and conceptual realms.
These two new works, "Something" and "Telescopio," continue Ortiz's meditations on text, interactivity, and the dynamics of code, the latter piece paying homage to the great French Symbolist poet Stéphane Mallarmé and his groundbreaking graphic poem "Un coup de dés jamais n'abolira le hasard."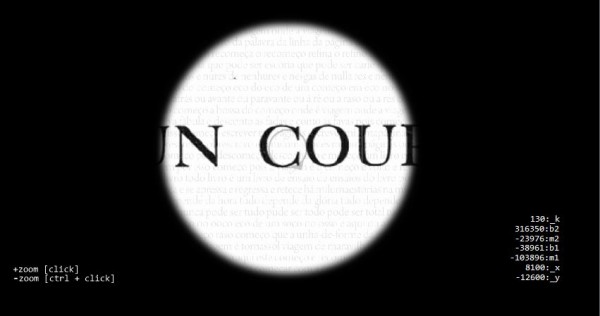 ---
Born in Santiago de Querétaro, México, in 1980, Benjamin Moreno Ortiz is the author of Tu haz de cuenta que me importa (short stories, 2005) and Signos de la Amnesia Voluntaria (novel, 2009). Additionally, he was a fellow of the 2010 FONCA Jóvenes Creadores grant for the multiplatform fiction work La Novela Cristera. His digital poetry project concretoons was exhibited at Centro Nacional de las Artes in 2010. He collaborates with poet Minerva Reinosa on BENERVA! http://benerva.tumblr.com/, a textual visual and technological experimentation project.