November 01, 2010
In Search of Christopher Maclaine 7: The THE END Tour - A Work in Progress 6: CHARLES C
This is the seventh in a multipart series unofficially conjoined to the publication of Radical Light: Alternative Film & Video in the San Francisco Bay Area, 1945–2000, and the accompanying film series currently being presented by the Pacific Film Archive and San Francisco Cinematheque (in partnership with SFMOMA).
With my friend Brian Darr, proprietor of the great Bay Area cinephilia blog Hell on Frisco Bay, I've been scouting out the San Francisco locations used in Christopher Maclaine's Masterpiece, THE END.  What began as an attempt to identify and document what physically remains of the often mysterious places at which THE END was shot has evolved into a larger project to also analyze the film, and to identify all its many actors and extras, all of whom appear uncredited. To read the full version of these preliminary remarks, including info on how YOU can participate in this project, click here. For further information on Maclaine, check out the intro , which serves as this series' hub.
NEW FEATURE: a Youtube of the CHARLES episode is viewable here.
NOTE: portions of Maclaine's Voice-Over narration are transcribed in italicized sections. The images, for the most part, are stills documenting many (but by no means all) of THE END's shots. Those unfamiliar with this film will probably want to watch the video clip found above first, before making their way through the (hopefully enjoyable) notes and explication.
---
We now take up from the end of CHARLES B:
He would take a walk and put the matter out of his mind, as if he had the rest of his life to live, as if he had not virtually committed suicide back there in the night he could hardly remember.
47) Charles lurks in an unidentified location also seen in the next two pictures:

So he took his walk, enjoying the limitless scenes around him…
48) A defiant Charles seems almost reconciled to his fate.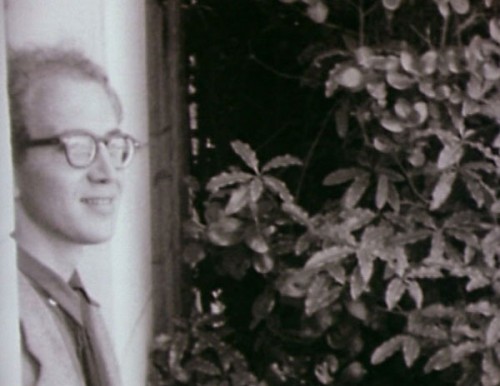 …as if he had the rest of his life to live…
49) Or perhaps just distracted?
…remembering that he had a right to live, after all, but in the afternoon he realized that his time…
50) The Golden Gate Bridge tollgate can be seen in the overexposed distance as Charles walks towards it.
…was over, and it was simply a matter of making a decision, which he made.
51) Unidentified subjects. This young boy turns to face camera (presumably Charles's POV) gravely as Charles "makes his decision"—a classical situation. Is the boy representative of a younger, more innocent self?
What does one think in one's last moment, he thought. What does one think… Does it suddenly sum itself up?
52) Unidentified subjects in an unidentified location; on the basis of information provided by historical consultant John A. Martini, however, it seems probable the beach seen in pictures 51-55 is on the west end of Marina Green. As yet, Brian and I have not been able to confirm this — Marina Green has changed considerably since '53, and though there are a few extant spots with similar curved stone stairs, none has proved a perfect match.
In his last moments of relative ease, Charles focuses on the original dynamic—mother and infant son—central to at least 49% of us, but the subject of obsession for him.
Is there one picture, or flashes?
53) Does this happy-seeming unidentified mother/daughter combo refer back to a dynamic in Charles's childhood, first referred to by the scenes of the duck-feeding family of pictures 5 and 24? Is this cheery dog mocking Charles's isolation?
Yes — that is the final goodness of life:  in that last moment, memory will be forced to operate in its true capacity…
54) The unidentified mother and infant son from 52, evoking for Charles, perhaps, a version of his mother and infant self? The mother reads obliviously, while the infant remains content, all his as yet unknown woe before him.
55) The baby boy crawls away from his mother towards the camera. The cameraman (presumably Jordan Belson) tilts the camera down to follow baby, and photographs the boy crawling into his own (that is, the cameraman's) shadow. This has always seemed a highly charged moment to me, akin somewhat, or at least going in the direction of the scenes in which the ape-men/men touch the monoliths in 2001.
…and the past will flow by…
56) Apropos to Charles's comparatively enervated condition, this is a different, slenderer arm than the one seen in Walter's episode (scroll down). The word "flow" spoken in conjunction with the image of a wrist suggests suicide by razor-slash, and the concomitant flow of blood.
…before my eyes.
57) Shot in previous image continued. The arm relaxes.
Now, all I have to do is to find a place where I can put myself in that last moment. Then he remembered a place he had often thought of before, and…
58) This coin-fed turnstile is no movie-prop: John Martini remembers these from his childhood in the early 60's. He identifies this one as having been "about where the current gate is now located at the south end of the bridge, near the roundhouse gift shop." How long the era of turnstile-facilitated pedestrian entry to the Golden Gate Bridge lasted will be a subject for further research.
UPDATE 12/15/10: John A. Martini has come through with the details: "From May 1937 to December 1970, a pedestrian toll (sidewalk fee) was charged and collected using a coin turnstile. By Board of Director Resolution No. 7159, authorized on December 15, 1970, the pedestrian toll was eliminated." (source: http://goldengatebridge.org/research/facts.php#pedestrianfee)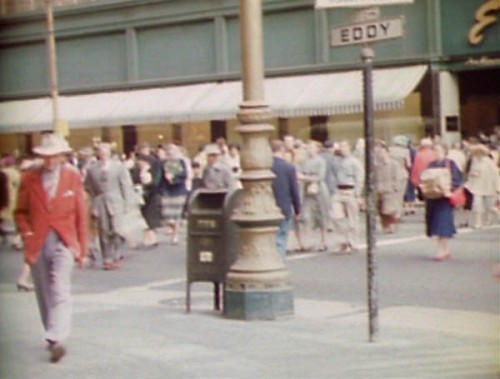 …he walked toward it, still enjoying his walk.
59) As his body moves towards the bridge, Charles's imagination returns to one of his usual haunts: the intersection of Market, Powell, and Eddy, as seen from an angle approximate to those of 36 and 37 (scroll down). On the basis of 36, this site may be described as the location of Charles's ultimate Oedipal vortex, and is as likely to be the "place he had often thought of before", where he could put himself "in that last moment"—at least on a metaphorical basis—as the bridge itself. We enter this shot with the camera already panning vertiginously right.
60) The motion of the shot becomes a swish-pan.
61) Shot from 59 and 60 continued.
62) Maclaine jarringly cuts to the static shot of the street philosophers engaged in their characteristic back-and-forth.
63) He then cuts briefly to this upside-down swish-pan of an unidentified street (presumably a section of Market St.).
64) He then returns us to the swish-pan of 59-61,
65) continuing to this point before cutting. The building in the immediate background is 7 Powell St.
66) A recent photo from approximately the same position/angle as 65.
67) From the shot ending with image #65, Maclaine cuts back to his favorite street loungers engaged in discord, only now they are seen upside down and in reverse motion. By means of these swish-pans and upside-down shots of Charles's fraught world, Maclaine cinematically evokes Charles's breathless imaginings of his long head-over-heels tumble, to be realized in the immediate future. By setting this moment in the streets of Charles's everyday reality, Maclaine elegantly suggests that his conundrum, however it might have been initiated, is now self-generating, and its imagined end can only take place in the theater of his auto-mythology.
With his last dime, he…
68) Like a dime might be tossed into a slot, a dumbbell is chucked onto a concrete street, its impact suggesting that of Charles's "dumbbell" head against the Bay. This image, like those of the tensed/relaxed arms throughout the film, is redolent of male complexes involving exertion of muscle and ego, and/or metaphorical self-immolation.
…removed himself from the threat of red tape and embarrassment, and the slate was already clean…
69) Maclaine cuts back to the shot seen in picture 58: camera tilts up to follow Charles's entry into the Bridge compound proper. He then cuts to black as he delivers the last three syllables of the Charles story: "—ready clean"… Many of THE END's viewers have had these last words seared into their psyches by the scathing dryness with which Maclaine delivers them, myself included.
So much for Charles. I've analyzed his segment of the film in greater detail than I will for any of THE END's other characters. Over the years, I'd come to realize it's precisely constructed in a densely allusive code, no doubt due to the disturbing nature of its story. The episodes of the film's other characters are put together in a looser manner, without totally readable content (at least by me). They therefore seem more intuitive and personal, whereas the Charles segment is characterized by its nature as a highly literary creation. It certainly ranks amongst the most brilliant episodes in Maclaine's work. Returning to the film:
We continue to see black, and after a few seconds, hear Maclaine intoning:
Let us go on, the time grows shorter…
We are off to a new adventure!
Click here for the first part of the chilling JOHN saga!
Click as indicated for the previous post of this Tour.  Click as indicated for the intro to this series.
If you have any information or (non public) feedback to contribute to the Tour, please click here.
SPECIAL THANKS: to historical consultant John A. Martini, who contributed valuable information to this week's post!