May 10, 2010
Shadows and the city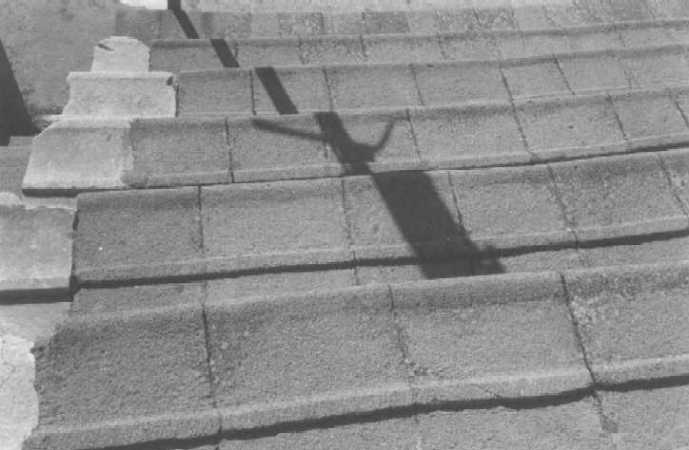 The word 'shadowflage' hasn't been properly coined as far as we know, so for what it's worth we'll do so now. We've been interested in the art of camo for some time, but back in February while visiting Paris for the Smart City Conference we had occasion to visit an Italian academic who has devoted himself to the study of making things disappear in a slightly different way. In his cramped modernist flat with two young daughters running wild around the stuffed bookcases (and yelling in French and Italian for chocolate) he patiently explained how he'd spent the day on a freezing playground captivated by his own shadow—and the possibility of using ice-covered pebbles to make it disappear. He'd traveled to Africa specifically to watch the shadow cast on the ground by an eclipse. And he written an entire book on the subject of shadows, in which he observed that shadows are as much responsible for making things seem more themselves, as makeup makes the face more legible by enhancing the shadows of the eyes and lips, as they are a force of occlusion and darkening. If there's one device that representative art depends on, it is the rendering of shadow.
True, flat shadow pattern has become an important part of modern camouflage, but what of the idea of using shadow itself to perpetrate a new reality? This is still mostly the province of speculative science and Wayang performance, although the technique has been explored in art by the likes of Kumi Yamashita, Tim Noble and Sue Webster. Bldgblog recently posted this promo video by a company that claims have a system for generating volumes that produce multiple specific shadows, which is at least fascinating:
We'll throw this out to the readership, then: what other examples of the deliberate use of shadow as an object, especially in the urban context, do you find interesting? With shadow ordinances recently at the top of the legislative debate in San Francisco, is there something more interesting we could be doing with shadows than banning them?