January 24, 2018
Dear Poet of the Universe
It is with great pleasure and pride that I am writing to offer you the position of Poet of the Universe at our Zoltan Monsanto Campus, located in a remote area of City Terrace adjacent to industrial flats below the El Sereno hills, east of Lincoln Heights.
We are quite proud and pleased to offer you this marvelous all-expense paid two-year award based on your superlative record of controversial publications, your reputation as spokes-persona for the community of pirate airships, and extra-logical covert activities. As you will see, these accomplishments make you a supremely qualified candidate for this fellowship.
You may not be familiar with our institute, the Zoltan Monsanto Institute for the Cognitive Dissension, so I shall say a few words about it before describing the ultra-prized position of Poet of the Universe, which the New York Times has called, "literally an illusory Dream job for dreamers," and the Washington Post has described as, "like a MacArthur Award for Outsiders in the Unknown."
The Zoltan Monsanto Institute for Cognitive Dissension originated in 1953, when the death of Josef Stalin at his Kuntsevo dacha outside of Moscow allowed select scientific figures in the American Intelligence Community to return to their major research endeavors in ESP-Transference and Kinetic Manipulation related to UFO societies throughout history, particularly throughout the American Southwest during the nineteenth and twentieth centuries, aided by "anonymous" donors who apparently had indefatigable sources of disposable funding.
By the 1960s, the Zoltan Monsanto Institute developed an international profile amongst sectors of the Scientific Establishment worldwide for its utterly original, even controversial proposals on Cognitive Dissension and Kinetic Folding of an Indifferent Universe, even though to outsiders (or even local residents in the nearby communities of El Sereno, Monterey Hills, Hemon District, and Happy Valley, as well as Lincoln Heights), the institute itself was largely overlooked and virtually invisible, perhaps as an unintended or intended result of a type of "psychic cloaking" practiced by certain faculty members who were said to have been variously Soviet defectors, Nazi rocket scientists, CIA rejects, or agents of the Ayn Rand Society.
The Zoltan Monsanto Institute, following in the footsteps of its beloved Chancellor Emeritus, Doctor Zoltan "Z-Bird" Monsanto (1878–1959), upon his untimely demise off the coast of Catalina Island, the position of "Poet of the Universe" was created as a tribute both to Dr. Monsanto's vision of poets as "acute folders inside an origamaic universe," as well as a nod to his own life-long bent as a versifier and lover of poetry, especially (his own specialty) the Poetry of Dream Architecture and Horticulture.
In keeping with Dr. Monsanto's great scheme, therefore, it is my privilege to offer you the position of Poet of the Universe at the campus of our world headquarters in East Los Angeles. The details of this position are… Cypress… The moths of blackness… Spiky ornate leaves of eucalyptus trees… hills on fire… night travels… Midnight corrofuscations… like the red roof of the mouth seen with white mildew… lizardy swish-swish… Sixto at midnight driving a VW bug through the intersection of City Terrace and Eastern… The position of these details is…
 Stipend $22,000 per year… or per day… or per minute… We will decide… we… together, we will sit at the metal table outside on the patio for a discrete conversation, you and I and… somebody else (no worries if they are uncontrollably shaking and trembling)… They may be a figure clothed in obscurity or an ancient past… They are another figure you may notice or may not notice… looking at you… They may be imperceptible, no matter… I say Thank You already, to you, to them… for your indulgence… for your one sleepy eye… for your shoes (look at your shoes)… the afternoon in the trees (no one in the trees)… Someone vanishes around a corner (the same person from before)… The white wall of the entrance of the building… I say to you… You reply… You know… a movie of Studebakers, Packards, and Fords oscillates inside eggplant nausea… glint of beer bottle alongside railroad tracks… the moment passes… I know you already know this… phrase of a Leadbelly song… the moment is passing… This position offers
The position of Poet of the Universe does require you to reside on campus for two years in the traditional apartment appointed for the poet/dream architect. The institute provides a sumptuously applied second floor apartment with every modern convenience including electrically timed toaster, all-electric stove with built-in oven, kitchen wall-clock with perfectly accurate local time (please notify us if you require a different chronology), RCA color television and stereo entertainment center with diamond-tipped hi-fi record player, a complete collection of modern jazz and pop LPs (from Jo Stafford to Nat King Cole) — This bright, airy modern apartment is reachable via stairs external to the modest two story building with its trellis of vines on a southwest facing brick facade, so you must be physically able to ascend stairs to the level of a second floor landing, as this is part of the "Monsanto tradition." We are sure you will find this all-electric, air-conditioned, ultra-modern apartment to your liking during your two-year stay, especially compared to your present lodgings. We deliver Folger's coffee. You may select piped-in radio programming from stations across the continental US at virtually any hour via our intercom system whose controls (located for your convenience both by the front door of the living room and in the kitchen) are at your fingertips. Rusty tint of late afternoon sun slanting from the direction of the Union Pacific railroad tracks… Clock face on the wall splayed with shadows of venetian blinds unmoving, silhouette of creeping charlie potted plant, suddenly time itself has shifted… Darkness… Light… Dark… A flickering light… You understand.
This
sihT
Once you have read this letter we are certain you will agree to these terms. You must agree, as have all previous winners of this award (such as
), that it is a great honor to receive this position's $$$$$$$$$$$$. $22,000.00 per annum… per month… per day… per minute… I shall now inscribe for you details and duties ascertained to you as part of the overall experience and slight, insignificant, easily complied duties of the Poet of the Universe and Dream Architect. As Poet of the Universe, we ask that you keep a "log" of poetic notions related to "time" and "intersectionalities" or "native plants" or "angles" or "colored moments" or "seconds." This "log" may be existent or non-existent. It may consist of actual notes in your favorite notepad or it may occur on frames of black and white montages of flipping pages of calendars from films from the 1940s. It may occur within the life cycles of domestic plants you are indifferent to, or occur inside the intellects of people who do not understand that you love them (or did, once, when you lived — when supposedly you were alive).
If you are a Dream Architect in your guise as Poet of the Universe, we ask that (weather permitting) you take your regular afternoon (or late morning) beer naps in the hammock supplied for this purpose on the balcony overlooking the rooftops of industrial workshops, foundries, garages, and neglected neighborhoods of El Sereno ("Hillside Village"), Hazard, and Lincoln Heights west of Soto Street, and keep your sketchbook at hand, or that you supply to us a type of photographic apparatus that appears inside a corroded black leather or plastic sack made of vapors and mirrors that will record your hidden thoughts via sonic impressions thrown against thin brown glycerin sheets. If you prefer the use of microscopic beads of silver oxide or aluminum oxide, these will of course be provided to you.
Now that we have your attention for one historical moment, we'd like to reiterate our thanks to you — again, again we'd like to thank you — in advance — for your work over these past decades in the area of poetry and poetics of the universe and, impeccably, in the pirate airship industry, which was crucial to the lives of several hundred people embroiled in mucous-laden spider webs of karmic freeways and car-crash destinies of urban spaces. Although few if any of these many projects ever came to fruition, including the incipient "Southern California Labor Party," the aborted "Thousand Foot Retinal Monument to Carlos Bulosan," and the troubled "Anthony Quinn Center for the Ericka Llanera Files," nobody could say that these and your ancillary projects were for nought, since they resulted in increased humidity in localized areas, new plant growth on hillsides, increased awareness of the effects of pollution in intertidal zones and the running times of grunion, as well as the doctoral dissertations of dozens of lecturers, adjunct professors, and part-time faculty at institutions across the Western Hemisphere, not to mention kickstarting the careers of two actors, a radio personality, and several regional writers.
We consider it a great honor to have you join us as Poet of the Universe. Besides the residency itself and lending a congenial aura to our usually totally deserted industrial plant hidden behind the brick walls on the other side of the Southern Pacific railroad tracks in a particulate haze of twilight or murky afternoon heat waves radiating from the telephone poles running from the San Gabriel Valley toward downtown, we are asking that you instruct one workshop in the Poetics of Dream Architecture to our clerical staff and other nonessential staff members we shall round up at the drop of a hat. We also ask that you give a public reading from the balcony of your residence one afternoon in the orange last light of day for faceless masses. Posters of this event appeared in 1991 and 1986. If you have any questions regarding these or other clerical duties that will be requirial (requiroid) of you, we expect these and any uncertainties you may have to be cleared up by calling (916) 651-4022 or 202-225-6235. In order to accept these minimal duties, all you must do is return this portion below with your signature attached to the indicated images that you find in each photograph below:
1. I recognize the person in this photograph as "Tina Lerma," who will be found shot to death in her driveway, presumably by sicarios of the Mexican Mafia for serving as consultant in a movie about East LA dirigibles that was found stylistically objectionable.
I aver this to be fact, (signed) ______________________________ Date _______
2. I recognize the person in this photograph as "Jose Lopez-Feliu" who will sustain fatal head injuries after falling down the stairs to his apartment after (conjecturally) going outside to fetch the newspaper, not realizing that his home delivery subscription to the Los Angeles Times had lapsed ten years earlier. (According to another source, the alternate version of his death will be that he stepped outside one morning and was whirled away by a tornado that descended out of nowhere. It was the second time he had suffered such indignity.)
Sincerely, (signed) ____________________________  Date ____________________
3. I recognize the person in this photograph as "Sergio Tamayo," who will be murdered in an unsolved machete attack inside an abandoned aircraft manufacture plant in Burbank, CA, one of a series of such (unsolved) attacks in the Burbank (CA), Van Nuys (CA), El Monte (CA) and Las Vegas (NV) areas. Are these attacks connected to spasmodic activities of Carlos Castaneda Tensegrity cults?
I aver this to be fact, (signed) ______________________________ Date _______
4. I recognize the personage in this photo as "Enrique Pico," who will die from a supposed stroke while hospitalized in Paris for "mental fatigue" at the behest of his personal assistant, the famous alcoholic Buddhist nobody remembers. Somehow Pico's family and associates will not be notified until two weeks later. By then, his remains will somehow be "lost" and unaccounted for.
I aver this to be fact, (signed) ______________________________ Date _______
5. I recognize the person in this photograph as "Swirling Wheelnuts," who will be found choked to death in his car at 5 a.m. on the outskirts of the new Walmart parking lot in San Bernardino, CA, having tried to swallow two Burger King burgers together with a thirty-two oz. Diet Coca-Cola at the same time (wrappers included).
I aver this to be fact, (signed) ______________________________ Date _______
6. I recognize the person in this photograph as "Airica Yanera," who will be found to have committed suicide by hanging herself with a Gap shopping bag in the City of Commerce sheriff substation, following her arrest for "erratic eye movement" and "lonely driving" on the streets of East Los Angeles by Los Angeles sheriffs deputies.
I aver this to be fact, (signed) ______________________________ Date _______
7. I recognize the person in this photograph as "Renato Frias," whose body will be recovered during the periodic draining, dredging, and cleaning of the lake in Lincoln Park, by contract workers for the City of Los Angeles Parks and Recreation Dept. The body will be too decomposed to ascertain cause of death, but identification will still be possible due to certain inimitable fashion sense.
I aver this to be fact, (signed) ______________________________ Date _______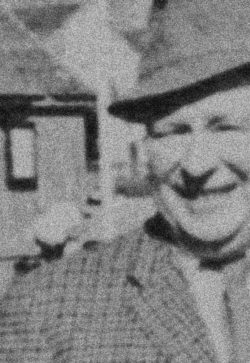 8. I recognize the person in this photograph as "Augustina Sandate," who will be pronounced officially deceased by the the United States of Alzheimer's even though her body will never be found, as her car will be recovered from the National Petrified Forest of memory, interior stained with fatal amounts of blood and bits of courage.
I aver this to be fact, (signed) ______________________________ Date _______
9. I recognize the person in this photograph as "Melissa Arana," whose death will be officially pronounced as "homicide," after an "accidental" drone strike by former China Lake-based hunter-killer drone operators who allege they were merely "testing" General Atomics MQ 9 Reaper on "border crossers." Critics allege that this scenario is a dubious CIA cover-up, due to the fact that Arana was "bug-splattered" and "explodi-yodied" on a dirt road outside Joshua Tree, CA, over 110 miles from the US-Mexico border. Three other persons in the vehicle at the time are also listed as "accidentals."
I aver this to be fact, (signed) ______________________________ Date _______
10. I recognize the person in this photograph as the four-year-old "Jane Arana" (child of Sergio Tamayo and Melissa Arana) "accidentally" blown to pieces with her mother (Arana) in reported "drone incident" described above.
I aver this to be fact, (signed) ______________________________ Date _______
11. I recognize this person as "Eufencio Rojas," whose death will be found to be a result of "blunt force trauma consistent with aggravated physical assault" by delinquents who roam the city attacking homeless persons while he spent his morning innocently meditating on his supposed future, or perhaps as the result of another one of those tornadoes that spin endlessly out of the Dual Vortices of American Violence. Many will be too tired to care.
I aver this to be fact, (signed) ______________________________ Date _______
12. I recognize this person as "Johnny Yep," who will be "disappeared" during COINTELPRO 3, reportedly by a faction of his own organization, ReMemoria, and whose body will be supposedly buried in sight of I-40 outside of Needles, CA.
I aver this to be fact, (signed) ______________________________ Date _______
  13. I recognize this person as "Eric Garner," …as "Ezell Ford," …as "Philando Castile," …as "Kelly Thomas," …as "Amadou Diallo," …as "Ruben Salazar," …as "Rekia Boyd," …as "Sandra Bland," …as "Alex Nieto," …as "Andy Lopez," …as "Cau Thi Bich Tran," …as "Hector Morejon," …as "Wesley Everest," …as "Aiyana Jones," …as "Tamir Rice," …as "Amilcar Perez Lopez," …as "Oscar Grant," …as "four million Vietnamese," …as " ______________," …as…
I aver this to be fact, (signed) ______________________________ Date _______
The Poet of the Universe will be able to stand on her or his balcony at dusk and view her or his domain as night falls.
Blue deepening east over the San Gabriel Valley, the last flash of daylight casting a red-orange sheen on the Union Pacific tracks parallel to Valley Blvd. Traffic hurries into the past like regular.
The Poet of the Universe will stand on her or his balcony as night falls and consider her or his options.
What do the "Available, Post-Industrial Capital Group, Inc." real estate signs attached to empty buildings around the campus portend? Why will most or all of the campus be for sale and absent signs of life — or lacking visible activity as more "departments" lapse, offices and centers closed or folded into each other due to budget cuts and "reorganization"? "Restructuring" will be the order of the day. Academics and scholars shall flee the institute like rats from some sinking shit. Rumors suggest that the Zoltan Monsanto Institute for the Cognitive Dissension may cease to desist, disappear in a puff of dust, bought out and replaced by Interstitial Meta-office Spaces. Don't worry, the clerk will reply when you mention this prospect to her, as she calmly sits alone in the lamp light of her desk on the fourth floor of the August Bittenoff Dissonance Library, a spanking steel and glass cube overlooking a narrow stretch of lawn adjacent to a vast  black asphalt parking lot murkily outlined by lamp posts extending toward Soto Street a half mile distant (though if you stand on the Soto Street bridge, the building seems indiscernible) — the clerk advises: "Don't worry, if the campus is entirely sold to developers and all facilities are removed without a trace of the rich history and priceless archives of the institute, you will be allowed to stay out your fellowship, without question — no further duties will be required of you. No need to worry, nothing further will be asked of you in any way, shape, or form. Consider your duties fulfilled! Over! I have been assured as much myself. Everyone else may be gone, but I plan to stay as long as the paychecks keep coming. Is there anything else I can help you with? No? Then by all means, have a wonderful evening."
You will look — perhaps tentatively — at your own reflection, your reflection in the black plate glass of the library as such reflections escort you past couches arranged as a kind of corner reading lounge, and the clerk's thoughts will seem to reiterate and usher you from the empty fourth floor toward the elevator doors:
"Don't worry, when no one is bothering you, you can do nothing all day in empty offices and still collect your sizable paycheck."
Telepathy can be fun, as the clerk's thoughts resonate cool and silent in air-conditioned air waves.
"Don't worry, you can sit around and drink whatever, and sit around and think whatever, about remorseless self-recapitulation while the investments grow. You will feel so free."
Your reflection will float across the black glass of the night, occasionally glancing at you.
"When you don't have to speak to a single soul in days or weeks, you will feel so free as if passing through translucence."
You shall receive every one of her thought motes!
"Full benefits can be enjoyed dentally, medically, and visually, like a kind of electronic chewing gum, particularly when there's no work to do, simply nothing to be done!"
By all means continue to hear the clerk's thoughts telegraphed via ESP:
"You cannot help but feel so utterly free and loosey-goosey as your silhouette lurches headlong down fluorescent-shiny corridors and hallways like the semblance of a lost spirit and you can punch elevator buttons almost at random, up — down… hurrying through lobbies and down the broad concrete steps of buildings with the the night's universe hanging overhead like an entire city you never noticed before."
Oh yes.
"You may feel your powers of invisibility develop while no one is looking, as if twenty million eyes across the city cannot fixate."
The clerk's mental voice may modulate as MacArthur Park is melting in the dark.
"You may identify most with your own shadow as it leans ahead of your every step, cutting ahead before shearing off at the corner of a building or in a passing headlight, or in the weak glare of street lamps from Valley Boulevard or architectural sconces that cause your shadow to dive like a swimmer into pools of light."
The clerk's voice may tick with analogue clicks, stutter, digitalize, continue.
"Imagine, fluorescent shine of tiled floor and gleam of aluminum fixtures piercing static preconceptions like a chopstick inserted through braided hair."
You shall understand.
Locate your Amache UFO Club membership card. This will take longer if you must (indeed as you certainly will have to) stealthily sneak upstairs into your own apartment, creeping suspiciously along the wall and sneaking upstairs like a sneaker, like a detective on the run from both gangs of criminals and the cops, like a vendido from his or her own conscience and somebody else's. On the run from your own doppelganger and the stench of infantilized ideologies. The streetlamps may throw your shadow long like a long shot, so you will duck into the shadows of the buildings, scooting up the stairs surreptitiously like a science-fiction protagonist in the vacant Bradbury Building (304 S. Broadway, Los Angeles, CA)*. Leaving all lights off, and proceeding through tactile senses, you shall duck inside your apartment and check the usual places for your personal items. You shall locate the card, crawl along one wall below the level of the large windows (as it occurs to you one purposes of the windows is so that others may see in), and after peeking outside, scanning the night terrain for a long while, you shall slip out your front door for the final time, "never to return." [In stentorian enunciations of a science fiction narrator.]
Or, perhaps a cursory search of your person shall reveal that you carry the card in your pocket or wallet even now, as usual. Got it!
You may yet be able to 'scape with your life ["nay, your very soul"] intact. Let's go!
* Like Robert Culp playing the character of "Trent" in a 1964 episode of TV's The Outer Limits (based on a script by Harlan Ellison), or like Harrison Ford, playing the character of "Detective Biff" in the 1982 movie Blade Runner (based on the novel Do Androids Dream of Electric Sheep? by Philip K. Dick).
Keeping to the shadows, worrying about the night vision capabilities of your implacable pursuers, preoccupied by the incessant menace of surveillance, and worse (you must recall the most recent roster of the "disappeared"), and taking such evasive maneuvers and sneaky dodges as you can come up with literally on the run, you shall flit through the darkest portions of the campus like a nahual. You can attempt to utilize idiosyncrasies of architecture and blind spots in the terrain, Thomassons and "stairs to nowhere" in order to obscure your movement, although you realize that a trained observer (especially one electronically enhanced) should be able to follow you.
Nevertheless, you'll arrive at the back wall of the property — a tall brick wall demarcating the limits of the tether this campus has on your intellect (leading you to feel "home free"), and leap over the eight-foot brick wall in a mighty leap.
Or, failing that, push a dumpster against the wall, in order to laboriously climb atop the dumpster (slipping on slumpy acrid trash bags, huffing and puffing as you clamber back out), grabbing the top of the wall ("Ow! Ouch!") with both hands and dragging yourself over the wall, almost weeping with fright ("What if I break my freaking ankle?") as you throw yourself over, landing on all fours in order to break your fall — but insufficiently — as your forehead strikes the ground — and you find yourself lying on your back… stunned… stupefied — gathering your wits… hand to your forehead, checking for an open wound as sense returns…  a small pebble embedded in the skin in the center…
Or, perhaps you may find a door in the wall (where long unused railroad tracks fust, rust, exit, where you slip between chainlink gates padlocked with a heavy chain but fallen ajar) and pass through.
That's how you will find yourself walking through bleak industrial backstreets of warehouses, foundries, and recycling plants that you think of as "Hazard" or "White Fence," the neighborhood adjacent to the Phillip's 66 oil refinery on Medford Street, once site of Mexican Mafia murders of their own members, sometimes conflicted territory of Big Hazard, Little Hazard, White Fence (separated by the 10 freeway from Garaghty Loma) street gangs, an elbow of City Terrace bound by railroad tracks and factories to the north (the covert campus of the dissembling institute vanishing — folded — among them), the 10 San Bernardino to the south, Hazard Park and Ramona Gardens housing project (along Soto Street) to the west. This is where you skulk through the empty streets with your whole being on the lookout for signs of life. Debris in the shadows of tall corrugated metal fencing ten to fifteen feet high may include discarded plastic bags smelling like rotten fruit and death. Discarded tires. Locate here one of the last remaining coin operated pay phones in the world.
In the shadows of a former mom and pop grocery store (boarded up, even the bars on the doors and windows painted a dirty tan or beige), next door to a long dead hole in the wall restaurant (yellow under the street lights, also boarded up), you are shocked to find, one — the payphone receiver is not ripped out of the phone mechanism, and, two — there's a dial tone!
You insert coins into the mechanism, put the receiver to your head and, squinting to read it in the light from a distant streetlamp, punch in the number provided on your Amache UFO Club card.
Recall that the Amache UFO Club is semi-underground sect dedicated to seeking out the truth of higher intelligence in the universe, which the government severely denies, as evidenced by severely top secret denials of the existence of so-called "aliens" who live among us to this day! (Extraterrestrials or 'infraterrestrials' some of whom are "clones.") Area 51, Roswell NM, the 1908 Tunguska Event (Siberia), the 1930 Curuçá River event (Brazil), all of which the government denies knowledge of in official cover-ups such as the Project Blue Book Special Report (1952–1954), the Condon Committee Report (1966–1968), but which reports have been revealed as counterfactual, spurious and partial at best, or smokescreens and lies at worst. Xperts known to leaders of the network of UFO clubs have repeatedly testified: "The Honorable Elijah Muhammad told us of a giant Mother Plane that is made like the universe, spheres within spheres. White people call them unidentified flying objects (UFOs). Ezekiel, in the Old Testament, saw a wheel that looked like a cloud by day but a pillar of fire by night. The Hon. Elijah Muhammad said that that wheel was built on the island of Nippon, which is now called Japan, by some of the original scientists. It took fifteen billion dollars in gold at that time to build it. It is made of the toughest steel. America does not yet know the composition of the steel used to make an instrument like it. It is a circular plane, and the Bible says that it never makes turns. Because of its circular nature it can stop and travel in all directions at speeds of thousands of miles per hour. He said there are 1,500 small wheels in this mother wheel which is a half mile by a half mile (800 by 800 m). This Mother Wheel is like a small human-built planet. Each one of these small planes carry three bombs."**
You won't have to wait long — after your call to the Amache UFO club call center number — standing lonely like a solipsistic individualist or subjectivist loner under a streetlamp in front of an abandoned storefront.
Within an hour or two (not much longer!), a white van — the UFO club's unmarked van — will thread its way through the midnight streets of City Terrace, East LA, and stop, its door sliding open for you. Hands will emerge, gesture for you to get in the van.
**Louis Farrakhan, The Final Call, June 2, 2015: "The White man writes in his above top secret memos about the UFOs. He sees them around his military installations like they are spying… That Mother Wheel is a dreadful looking thing. White folks are making movies now to make these planes look like fiction, but it is based on something real. The Honorable Elijah Muhammad said that the Mother Plane is so powerful, that with sound reverberating in the atmosphere, just with a sound, she can crumble buildings. And the final act of destruction will be that Allah will make a wall out of the atmosphere over and around North America. You will see it, but you won't be able to penetrate it. He said Allah (God) will cut a shortage in gravity and a fire will start from thirteen layers up and burn down, burning the atmosphere. When it gets to the earth, it will burn everything. It will burn for 310 years and take 690 years to cool off."
That way, you find your way to a dim seat in the crowded eight-seat van, which you will be familiar with, as you have participated in previous outings of the Amache UFO Club. Sour folks jostled in their seats, splashed with diagonal shadows cast by street lights. "Hello, everybody!" you'll call out. Maybe one can manage to mutter, "Hello." These folks belong to the group with whom you've hiked to the ruins of "the White City" adjacent to the Mount Wilson toll road above Sierra Madre and viewed ruins of tracks and foundations left after a three-day storm wiped out the Mount Lowe Railroad in 1938, you have zoomed two-and-a-half hours through the Mojave desert to George Van Tassel's Integratron, in order to take "sonic baths" and experience levitation and time travel. Plus, this and listening to Gram Parsons and the Flying Burrito Brothers next to a roaring campfire by Cap Rock outside of Joshua Tree and counting falling stars, which is reputed to allow you to attune your cellular vibrations to the frequency of Star Beings. Plus, smoking reefers and drinking whatever. You have done all these things on Amache club outings. Not to mention, en route, visiting abandoned silos and secret sites of the LGM-118 Peacekeeper, also known as the MX missile, which the feds spent billions on before abandoning, turning the sites to a private company, Orbital Science Corporation, so they could make millions developing the four-stage "Minotaur" project, which didn't go anywhere, but made them rich! Plus you could stand in the desert with the windswept group tasting grit in your teeth marveling at shining "disappearing" railroad tracks skittering off into heat waves in the direction of Nevada, where they were supposed to "rail garrison" ballistic missiles by routing them all over the desert to secret hideouts, locations which happen to be known to veteran Amache UFO club officers. In passing, the Amache club has shown you major parts of Route 66. And other such facilities that supposedly prove alien presence and extraterrestrial insistence. The Amache UFO club proves a constant revelation for seekers. That's why it can't be recommended enough. It cannot.
Therefore you must not be surprised when the van exits the boulevards and takes to the hills, lurching around the curves on an unpaved fire road above Altadena, rocking and jarring you against the other reticent, sad-faced club members. By and large they're a timid bunch, though there's always one loudmouth in the group. The grinding of the engine and the rattling of the vehicle will silence the whiners. You are not one of those, but as usual you'll shut up and pay attention, trying to figure out what they are talking about, what's going on… Like, one person will be going on about how modern art is just a government conspiracy ("CIA HQ at Langley, Virginia has a secret underground abstract art gallery, as the CIA funded abstract art as a way to influence ideologies throughout the second half of the 20th century, that's why I counter abstract subliminal influences in the media daily by imbibing Harmonized Water"), while somebody else analyzes which superpowers displayed by Marvel and DC comics characters in recent movies ("Don't even get me started on Batman v Superman…") which "obviously were" the results of alien technology witnessed by "mere earthlings… ordinary citizens readily crudely label such non-earth technology 'super powers,' while such phenomena are obviously of off-planet derivation…" — while at the same time you'll be straining to hear what the driver and her or his companion may say softly (it may be impossible to distinguish the identity or even the gender of the driver and her or his companion as they will — as they often do in transit — proceed, hoodies drawn up, sunglasses at night time) —
As the van suddenly skids to a halt and the doors fly open, night air through the sliding door will fall on you sweet and cool, smelling of sage and dust. "Everybody out! Check out the view!" somebody barks. The group shall exit the van, hesitant in accordance with its nature, disconcerted to be treated with not only disregard, but outright rudeness. The van shall be parked against the dry chaparral slope of the San Gabriel Mountains, on a road mostly illuminated by a yellow moon and the swath of lights of the city below. The road will reveal itself in a pale moonlit glow, hedged by silhouette brush. The group will be directed to an expanse of shoulder at the edge where they will have a terrific view of the city lights. As they await instructions on where to look or what's next, figures will emerge from the shadows on the road, and begin clubbing and shooting them.
You may, if you wish, take this opportunity to run, run for your life. Throw yourself into the tangle of brush, blindly fleeing, stumbling and falling through skin-shredding brush, followed by the sounds of blows, screams, snap crackle pop of small arms fire over your head. 
Please consider this offer seriously.
We look forward to hearing from you at your first convenience.
Sincerely,
Ralph Beria
Director of Programming
Offices of the Poet of the Universe
Dream Architect Department
Zoltan Monsanto Institute
Images by Arturo Romo