In the year 2013, the League Of F.A.M.E.© (Fantasy Art Market Enthusiasts) was born.  Nine team owners were gathered together for a "draft" where each team chose 10 artists for their roster.  Controversy, jeers, gasps and gulps ensued.  Jay Z was turned away via league vote, George W. Bush was bumped for spite, and Banksy was a late round steal.  Hot dogs were served.
The draft board…
David Kasprzak in an attempt to get Jay Z approved…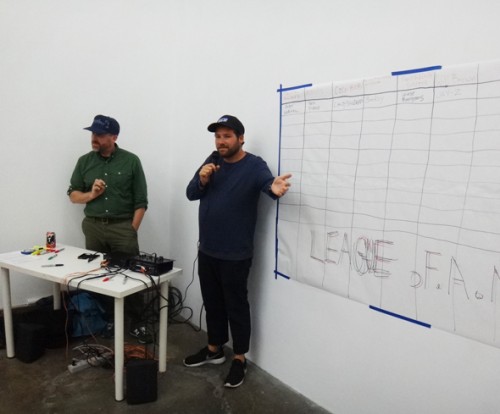 WEEK 1
Every week, we The Commissioners of the League Of F.A.M.E.© would make a video which revealed the upcoming week's scoring category.  In week 1 we ended up making two selection videos.  The first revealed the category as "Artforum ads week," and the second revealed the randomly chosen issue from 2013.  We then began to scan the ads only.  The scoring was 1 point per name mention, and 5 points per image used (1 image per page max).  We saw Coco Bob's team of blue chippers dominate the scoring with "Sweet Eddie" Ruscha leading the way scoring 15 with 10 mentions and 1 image used.  Jackson Bollocks finished second largely due to Andy Warhols 17 points (12 mentions and 1 image used).
Week 2
Week two's selection video turned up "hashtag week."  We should mention that once a week, the teams were allowed one drop and one pickup, meaning they could cut an artist from their roster to add one that was currently unowned.  That said, Will Brown added #TerryRichardson, and made a giant leap from last in the standings, to first.  Will Brown also got some help from #JamesFranco, and #KeithHaring.  PRtists finished 2nd with a strong performance from #AiWeiWei, and #FridaKhalo.  #Banksy was the top performer, and put The Something Something Art Cliche into a tie for 3rd with Switchblade Sisters who picked up and used #Swoon (sneaky move).
In week 3
The category was ebay auction week.  We would calculate the total dollar amount of SOLD items listed under the artist's name (authentic AND knock-off) over a 7 day period.  The competition was really heating up, and making a weekly move was proving to be invaluable.  Will Brown made the move of the season by picking up Walt Disney, carrying their team to another victory and positioning themselves for a run at the title.  Switchblade Sisters made a similar move by grabbing Beatrix Potter, but the surprise of the week was Du Champs pickup and play of Salvador Dali who's sales were as sharp as his mustache. As a result, D.U. Champs finished in 2nd for the week.  Rounding out the top three was The Something Something Art Cliche with big sales coming from Banksy and Tim Burton.
Week 4
Blog week was the category, and Switchblade Sisters hit one out of the park with Carrie Mae Weems.  It was scored using 1 point per artist name mention, and 5 points per image used.  There were 4 blogs used for scoring (artpractical.com, dailyserving.com, artfcity.com, and contemporaryartdaily.com).  Weems carried Switchblade Sisters to a week 4 victory.  Banksy factored in heavily once again for The Something Something Art Cliche, finishing in 2nd for the week.  In 3rd place was PRtists tied with Art Is Dead thanks to Picasso and Chris Burden respectively.
As week 4 concluded, so did the first season of the League Of F.A.M.E.©.  While Will Brown was the overall favorite going into the final week, consistency proved to be king as The Something Something Art Cliche came out on top after posting three top 3 finishes.  Switchblade Sisters finished 2nd overall, only 5 F.A.M.E. points behind the lead.  Will Brown fell to 3rd place, but was still only 6 F.A.M.E. points from the top.  Congratulations to The Something Something Art Cliche.  Final standings below…
1st place – The Something Something Art Cliche – Steven Wolf (Steven Wolf Fine Arts) – 115.5 F.A.M.E. points
2nd place – Switchblade Sisters – Sarah Hotchkiss (SOEX) – 110.5 F.A.M.E. points
3rd place – Will Brown – David Kasprzak (Will Brown) – 109.6 F.A.M.E. points
4th place – PRtists – Kathy Jaller (CJM) – 107.5 F.A.M.E. points
5th place – Jackson Bollocks – Conrad M. Meyers II (Aggregate Space) – 93.6 F.A.M.E. points
6th place – D.U. Champs – Leigh Markopoulos (curator/CCA) – 83.6 F.A.M.E. points
7th place – COCO-BOB – Robert Shimshak (collector) – 66.5 F.A.M.E. points
8th place – Art Is Dead – Andrew McClintock & Jamie Alexander (SFAQ/Ever Gold Gallery – Park Life) – 57.5 F.A.M.E. points
9th place – Bad at Sports – Brian Andrews (Bad at Sports) – 39.5 F.A.M.E. points