May 21, 2013
Currents Within a Collection: Elise S. Haas
The Elise S. Haas Bequest: Modern Art from Matisse to Marini is on view at SFMOMA till June 2. Open Space is pleased to host a series of posts highlighting Mrs. Haas's network of personal connections from SFMOMA Assistant Curator of Painting and Sculpture Caitlin Haskell and featuring graphics by designer Adam Machacek.
---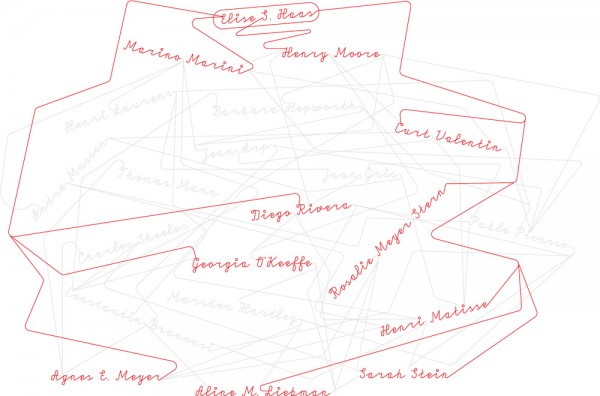 A little more than twenty years ago, devoted philanthropist and longtime advocate for the arts Elise S. Haas gave a remarkable group of paintings, sculptures, and works on paper to SFMOMA. Her vision and generosity are felt in many corners of the museum—SFMOMA's  conservation studio bears her name, as does a senior curatorial post in painting and sculpture—but to most visitors her influence and largess are most visible on the museum's second floor. Since 1991, anyone strolling these galleries has found works hand-selected by Mrs. Haas to survey the art of her time in Europe and the Americas—early and midcareer Picasso, iconic works by Matisse in almost every medium in which he was active, and lesser-known classics by Diego Rivera, Marsden Hartley, and Georgia O'Keeffe. She also presented the museum with a substantial body of work by British artists Barbara Hepworth and Henry Moore and provided us with our first holdings by sculptors Constantin Brancusi and Marino Marini and by Cubists Juan Gris and Henri Laurens.
Mrs. Haas's bequest to SFMOMA includes much to celebrate, and the gift and the works it comprises have been focal points of many exhibitions and publications. Every five to ten years, for instance, the museum recognizes the importance of the gift by presenting it as an ensemble. Works like Matisse's Femme au chapeau (1905) and Marini's Cavallo (1947)—two of Haas's favorite works, which research tells us were frequently installed together, with the horse's neck outstretched toward the painting—have a natural affinity, or perhaps they acquired one over the years. Yet in presenting such well-known works—cornerstones of the Haas collection—one wonders if there is, in fact, new light to shed on them. Is there anything that hasn't already been observed?
My own attempt to address these objects from new angles brought me to the 1940s, 50s, and 60s, decades when Elise Haas was building the core of her collection. I became intrigued by the personal relationships that motivated or facilitated the entry of works into her care and ultimately into SFMOMA's collection. All were supported by a constellation of individuals—artists, dealers, collectors, family members, mentors—who each had a special relationship to Mrs. Haas. In some cases their presences are overt, as with Sarah Stein; in others they are less perceptible, as in the models provided by Haas's maternal aunts Aline M. Liebman and Agnes E. Meyer. Yet in each case something of these individuals is woven into the texture of the collection.
Haas had a tendency to demure when speaking about her collecting practice—"I do not call myself a collector but others do. . . . I just buy things I love." But it doesn't take an expert researcher to realize that, although she was an amateur in the literal sense, her art collecting was in no way a novice pursuit. A savvy networker and sophisticated broker with an exacting personality and a frank, forthright manner, Haas can appear both inspired and opportunistic within a single transaction. As a hub connecting a complex community of actors, Haas secured major works and ensured their placement at SFMOMA, all the while pursuing her own aesthetic sense and following what she referred to as "a purely personal attraction."
Although the collection now on view celebrates the gifts of one patron, it hardly reflects the unalloyed aesthetic sensibility of a single visionary. As I've come to understand it, the collection is more accurately viewed as an expert synthesis of material from many sources discovered and assembled by Mrs. Haas over decades. With more than ten artists in the collection represented by only a single work, it's fair to say that cohesiveness was not a guiding principle for Mrs. Haas. And as the exhibition subtitle implies, the works she collected spanned multiple decades of art making, from Matisse's "fauve" period in the early twentieth century to the work of Marini and his contemporaries in the 1950s and after. Haas had an ability to uncover great works across these periods, and her efforts resulted in a gift that in many ways represents a palette of different twentieth-century styles.
Although fascinating to me, many of the details surrounding these constellations of supporting figures didn't find their way into the current exhibition, and a great deal of research landed on the editing room floor. Over the next two weeks, between now and the exhibition's close on June 2, some of these stories will appear in Open Space, highlighting specific aspects of the Haas collection's formation and telling a story of community, of relationships with artists and dealers, and of role models within and beyond Haas's family and San Francisco sphere.
---
Caitlin Haskell is SFMOMA assistant curator of painting and sculpture.
After collaborating on several projects, graphic designers Adam Macháček, Sébastien Bohner, Petr Bosák and Robert Jansa (formerly Welcometo.as and Advancedesign.org) started a new partnership called 2011 Designers, with the conceit that the name will change annually (www.2013designers.com). They have engineered a process of working together online while in separate locations – their studios being located in Berkeley, California; Lausanne, Switzerland; and Prague, Czech Republic. Their work includes printed publications, exhibition design, type, posters, and illustration, for clients mostly in the field of culture.
Follow the Currents Within a Collection: An Alternative History of the Elise S. Haas Bequest series here.