May 03, 2013
Sunlight and Shadows: Al Wong in Conversation
We are presenting daylong screenings of Al Wong's Twin Peaks (1977) in SFMOMA's Phyllis Wattis Theater on Free Tuesday, May 7. Over the course of a year the San Francisco native shot this contemplative journey, winding around the distinctive hills in the city. Twin Peaks was featured at SFMOMA in a spotlight screening of his work in 1977, and last publicly shown in 1980. Here, Al and I revisit this title among others.
---
Tanya Zimbardo: You received a grant in 1975 from the American Film Institute in association with the NEA to create Twin Peaks. How did the concept for the film develop?
Al Wong: It developed from making Same Difference (1975), filming my kitchen window over an entire year. I believe it was shown at SFMOMA [Exchange: DFW/SFO, 1976]. I had one person, Ursula Schneider, sitting there in a particular position so that while the sky and seasons are constantly changing, she appears to hardly be moving. We got so good at it that when I said it was time to shoot she was able to just hop right up to the table and fit right in, perfectly. She was so kind to help me with this. I had the camera literally gaffer-taped onto the floor so it wouldn't move. We had to walk around it every time we went in the kitchen. I had to be very careful changing each roll of film. Terry Fox made the soundtrack by looking out my kitchen window and drawing his violin bow over the edge of a large bowl that he had found on Market Street. It was beautiful.
Same Difference made me really look at what was out there. I could see Twin Peaks through that window and wanted to get closer. It is a truly magical place. I'm sure you've seen the fog rolling down Twin Peaks like a volcano erupting. I slowly gathered material and started to see all the natural elements — the sky, the earth, the water in the distance. It was then obvious that I had to get the sound of the ocean. One of my favorite places is Baker Beach, so the soundtrack was recorded there. It has this wonderful, deep breathing that keeps changing. If you've meditated, you notice that your breathing changes, and if you try to make it consistent, you may be forcing it.
TZ: There is a meditative quality to Twin Peaks, and you've often stated the importance of Zen Buddhism in relation to your later work. How did this film dovetail with your own meditation practice?
AW: I started meditation around 1969. Unconsciously though, I was choosing the balance of elements, the soundtrack, and when I would go shoot. The whole thing was intuitive.
TZ: The absence of any ambient or driving noise, and only the sound of the breaking waves, also reminded me of focusing on one's own breathing rhythm or pulsating blood during silence. We're directly observing the environment from within the moving vehicle, but I felt this sort of detachment and an auditory sensation that my attention was simultaneously turning inward. You've also mentioned the role of repetition and the unique feature of the figure-eight Twin Peaks Boulevard.
AW: Yes. It is like life. We go through this pattern all the time. It is a form of infinity — waking up, brushing our teeth, getting on the trolley. The infinity loop road representing this continuous pattern of life. There are certain sequences in the film where it appears that the parts of the road aren't meeting and it isn't a single road anymore. The road is shifting. Life is like that. It shifts and it makes you feel off-balance at times. You have trouble, and then you try to slip back in. And your breathing is still going.
TZ: Could you describe your technical setup within the van?
AW: I was driving. I had to maintain 15 mph. Behind me was a two-by-four with a camera clamped on it. I marked everything so if it moved I could place it back in the position. The camera was there for the whole year in the bus. For the splitting illusion in the window, I simply attached a black, matte cotton cloth right onto the center where the windshield has that divider. When I pulled the cloth back to the camera, I would block one side of the window and the camera would only record the other side and vice versa. You probably know this process, but as a filmmaker, you put the A roll and B roll together, then have it printed, and you take a look at what you have. You notice the two views sometimes appear to really be in sync, but it wasn't intentional. I figured out the night shots by putting a marker on the tire so that every revolution of that marker, my left hand that is not on the steering wheel, could feel a particular point, pointing upward at 12 o'clock, which meant one revolution. At that marker I would expose the camera from one, two, or three seconds, counting verbally to myself. Then I would move one revolution. It took four hours to shoot 100 feet of film. It was kind of crazy because of the traffic, especially when I'm trying to get across the intersection. After the night sequence, the film comes to an end as the sun has risen and overexposes the film.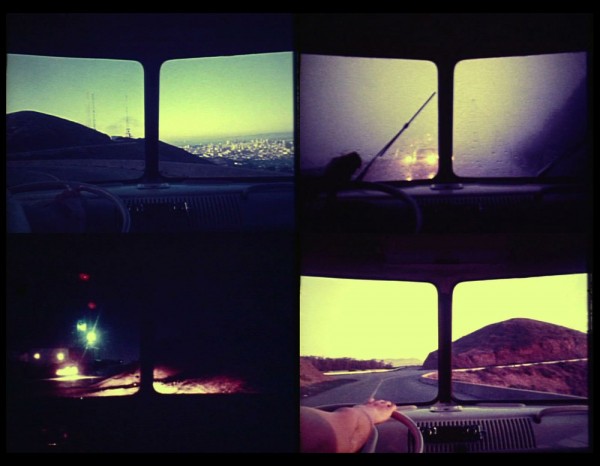 TZ: How often did you drive up there? Were you prompted by certain weather conditions?
AW: It varied. It depended on what material I already had. Other moments surprised me when I looked through the binoculars. I thought, I've never seen this before. I better go. Hopefully, I would get up there in time. I'm glad I had the binoculars because I had to feel like I was there, not just looking out from my kitchen in Potrero Hill at the time.
TZ: You also used the yearlong parameter for your installation Sunlight (1979). Could you describe that work? Did anyone experience it with you?
AW: The building at Minna Street and Fourth was from the Redevelopment Agency and had been a newspaper printing place and a dentist office. I pretty much blocked out everything from the windows and left a small opening where a mirror could be placed. That mirror would shoot a beam of light. For instance, a funnel would be turning around with a pie pan underneath it with magnets and frankincense. The magnets would help move the funnel in a gyration form. The incense created shapes when the light hit it. The funnel had small holes I had drilled in it. The first beam that comes in, where the funnel is, there was another mirror that shoots back to almost where the mirror in the window is that is capturing the first light from the sun. It was tilted, and another beam would shoot up to the ceiling. And then there was a fish-eye mirror that would open up or flare the light. With the smoke, it created a dome shape within that space. I was really pleased by that. I didn't know what it was going to do.
Terry Fox would come over. We spent hours watching it. He was only a block away, and we would go back and forth looking at each other's work. We did some interesting things just walking back and forth. Down from where the museum is now, there was a hotel that was abandoned because of a huge fire. Terry and I got in by climbing through a window from the roof of MOCA (Museum of Conceptual Art). It was almost like a museum of how people had lived there.
TZ: Tell me a bit about Corner  (1977), the double film projection of you and Stephen Laub in your Minna Street studio.
AW: The light from the windows was behind us. What we were trying to do was stay close to the wall and relate to the wall space. We would toss objects back to each other and tried to bend a big piece of board. Finally we move to each camera, rotate in opposite directions, and then go in the reverse direction. What happens when it is projected on the corner is that it appears that the images are merging or being swallowed up by the corner seam — sucked in or pushed back out. It was very sculptural.
TZ: I'm thinking of your use of the seam or dividing line in Twin Peaks during those out-of-sync moments when the two landscape views are colliding into each other.
AW: It's true. I wasn't aware of that.
TZ: In the 1970s there were several key figures here, such as Stephen Laub and Jim Melchert, primarily working at the intersection of performance and slide projection — a different time-based medium — in particular, sharing a similar interest with you in creating an interplay between real and filmed components. I'm wondering how much dialogue in general there was between artists and filmmakers about investigating nontraditional projection surfaces in the gallery context. It seems like you were involved with both a group of conceptual artists approaching projection often as an extension of photographic or sculptural concerns, as well as the experimental film community engaging with expanded cinema.
AW: I knew Jim. Stephen and I were friends, and I really loved his work. In terms of other people working with projection, perhaps the best answer was that there were different groups of people hanging out with their own groups, and they didn't always know what the others were doing. When I was teaching at the San Francisco Art Institute, I taught for many years a class called "Alternative to Film" to encourage students to try to think outside of the box.
TZ: One of my favorite experimental film catalogues is that pocket-size publication that was produced for the show Four and Seven that you guest curated in 1977 at SFAI. It featured a daily rotation of artists' films, such as Anthony McCall's solid-light film Line Describing a Cone (1973). In your introduction, you write: "The organization of this exhibition is an attempt to take film out of the movie theater format with its entertainment associations, preconceived barriers, and its limited audience — to become simply an equal medium used in the aesthetics of art. The work presented gives an overview of a range of possibilities involving film."
AW: Anthony was using film in a nontraditional way. I chose a lot of others who generally didn't identify as so-called filmmakers, but as artists. I was trying to demonstrate to the public that all of these people they knew would use film because their ideas needed that particular medium, but they were not necessarily caught up by the film medium or any other. They used the materials that were needed to make art. That was my motivation. A film showing in a gallery setting, not in the auditorium.
TZ: You've integrated your shadow and the silhouettes of other people in several film-based performances and installations. I'm thinking of the ephemeral figures in silhouette, including yourself, performing tasks or interacting with an actual object in the space. The illusion becomes grounded with an everyday item, a human figure, or the space itself. For example, the luminous paint-covered chair in Shadow and Chair (1979) or the spot-lit microphone in Moon Stand (1980).
AW: Part of the reason why I used my own shadow was that in the early days — well, you don't even know what I used to do with film! I used to have a whole crew of people in my Volkswagen, and costumes, you name it. It was a crazy party. I finally said I can't do this for practical reasons. I am the perfect tool for this, and I am here. I'm glad I was able to evolve from a more traditional way.
When I'm doing zazen, usually I have my back toward the morning sun. It casts my shadow on the floor. That shadow brought about other work — for lack of a better word, film installation. It was there for so many years, and I started noticing how wonderful it looked and how much a part of reality it was in the space versus making a narrative movie. So when I'm doing zazen, I'm looking at it in some ways like a projection. Why not film this and project this? I feel it is like a residue of someone's shadow or my own shadow. I could place it any environment that I wish. If I was projecting an image of myself instead of my shadow, it is more about the illusion of an image.
TZ: I believe that a major characteristic of the Bay Area in the 1980s was this exciting, proliferated activity of live cinema, performance, cinema sculptures, and related experimentation with camera obscura installations and mechanical apparatuses. If you take a few examples from 1984, for instance, you were in the group show Lite/Site/Projection at the San Francisco Arts Commission Gallery, along with a few fellow SFAI colleagues, like Janis Crystal Lipzin and Tony Sinden. The multivenue Perforated, organized by SF Cinematheque, included a program series cosponsored at New Langton Arts, which featured your Moonlight, and other evenings of installations by Michael Rudnick, Jan Novello, among others. Philip Whalen (1981) was shown as part of the Polyphonix 8 festival copresented by SFMOMA, SFAI, and Intersection. Another example, SFMOMA's SECA Film as Art Award broadened the criteria to include film-based installation and performance (1st prize: Michael Naimark). What are some of your recollections of work from that period?
AW: It bloomed and opened up. At the San Francisco Arts Commission what I did [Around the Gallery, 1984] was film from the street walking into the space, capturing what was in the show, and walking back out. I projected the loop onto a double glass mirror, so when it rotated the image would continue. The projector would project the loop onto a mirror, which had a motor attached to the ceiling, used for store displays, that I found at Goodwill. I had done a similar early mirror piece at the SFAI Annual (1976) that was presented that year on 16th Street, one artist every week. It was an image of me walking around the storefront that could fit into the space as it rotated. There were two storefront windows that I painted white to become like a screen. Imagine that the projection is fitting within one window and what is being projected is the room rotating and at a certain point also recording the rotation of the mirror.
TZ: You made other pieces and organized group shows in storefront windows for an audience of passersby. Around that time you began site-specific public commissions and mixed-media installations. You applied paint to hardware netting to investigate various interrelationships and formal oppositions, the shift between the lights turning on and off, or the transition from daylight into evening. Figures disappearing with the light and revealed in the darkness. Your 1984 exhibition in the WorkSpace series at the New Museum refers to these works with netting as shadow or spatial drawings. It strikes me that they synthesize your training as a painter and your ideas of projection.
AW: Yes, both. I was thrilled that I didn't need to use a projector anymore to get a shadow form. The film projector always used to bother me because the sound was distracting. There is of course movement with natural light because the sun is moving subtly. At the fire station [Light Clouds, 1994], sunlight comes into the canopy and casts light forms or changes because there is a cloud or fog. The forms appear and disappear again. It is similar to my recent works on paper that use back-lighting.
TZ: Your 1988 show at the Whitney Museum of American Art featured several installations, including Each Time I See You, I Feel It Could Be the Last Time. A silhouette of your father, Willie Wong, is standing by a television set that plays your home movie-style footage spanning 1966 until his death in 1986. It is culled from hours of your film, video, and photos of your family. You also visited China to film where he had lived before he immigrated in 1917. How did you decide to start filming him and your stepmother? At what point did you know you wanted to turn it into a piece?
AW: A year before he died. I wanted to capture his shadow. I had him stand there. Normally I take a 35mm slide and shoot it from waist level. I draw the outline on paper and paint the netting on top. From the beginning, for my love of my father, I just wanted to record him. I just wanted to keep him, as a son who loved his parents. I shot many good events and difficult real-life situations.
I was late going to his little apartment. A one-room in Chinatown in a five-floor building; each floor might have maybe 30 or 40 rooms with no bathroom, only one down the hall. He had a sink and one hot plate. Because he was a chef and went to culinary school in Chicago, he made wonderful food for us on that one hot plate. I got there an hour and a half late. Pop had had a stroke. He was still holding his newspaper. After the funeral, I started writing notes in a journal about what happened. I recorded shining a flashlight on that page. That appears in the video.
---
Twin Peaks is dedicated to Pop and Laura.
---
Al Wong (b. 1939, San Francisco) lives and works in the Sunset district. He received his MFA in 1972 from the San Francisco Art Institute, where he taught from 1975 until his retirement in 2003. Wong began showing his films in 1967 before turning to film and mixed-media installation a decade later, and then to video and works on paper since the 1980s. Twin Peaks was featured in solo screenings at such venues as SFMOMA and the Museum of Modern Art, New York. His work has been the subject of solo presentations at the Whitney Museum of American Art; Collective for Living Cinema; the New Museum; Millenium, New York; Mini Galeria, Zurich; Nexus Foundation for Today's Art, Philadelphia College of Art, Philadelphia; Gallery Tamura, Tokyo; Art/Tapes/22, Florence; SITE Inc., San Francisco, among others. Wong has participated in numerous national and international film festivals, group programs and exhibitions, including at the Instituto de Estudios Norteamericanos, Barcelona; Centro Columbo Americano, Medellin and Bogota, Colombia; Emily H. Davis Art Gallery, University of Ohio, Akron; Kuntsmuseum, Bern, Switzerland; Osaka Triennale 2001, Osaka, Japan; Filmmuseum, Vienna, Austria; the Metropolitan Museum of Art; Asian American Film Festival; AIR Gallery, New York; Expo 67, Montreal; Los Angeles Contemporary Exhibitions; SFMOMA; de Young Museum; San Francisco Arts Commission Gallery; Capp Street Project; New Langton Arts; Eye Music; SF Cinematheque; Gallery Paule Anglim, San Francisco; Berkeley Art Museum and Pacific Film Archive; the Oakland Museum of California Art. He has been the recipient of awards from the Flintridge Foundation, John Simon Guggenheim Memorial Foundation, Rocky Mountain Film Center, National Endowment for the Arts, and American Film Institute.