January 25, 2013
Receipt of Delivery: Windows by Eleanor Coppola
Receipt of Delivery is a weekly series featuring Bay Area exhibition mailers selected from the SFMOMA Research Library's collection of artists' ephemera.
---
Poster text: "Eleanor Coppola has designated a number of windows in all parts of San Francisco as visual landmarks. Her purpose in this project is to bring to the attention of the whole community, art that exists in its own context, where it is found, without being altered or removed to a gallery situation. An exhibition of color slides of the windows will be shown in the Atholl McBean Gallery."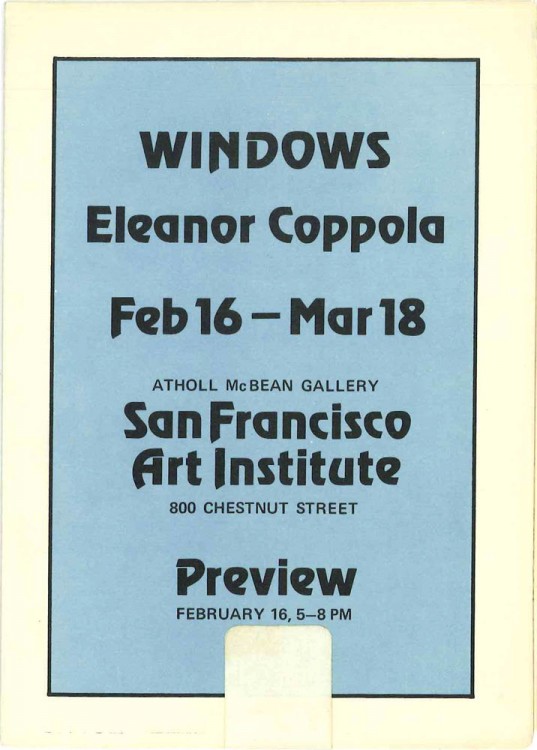 "The slides are shown at a tantalizing speed. You cannot get quite enough information to satisfy interest in any particular window. It is almost like catching a fleeting glimpse in passing traffic. After a while the show begins to feel like a warning. You may never see that view again, never return to the same spot. It may be lost in the tide of change. As a matter of fact, some of these windows are already gone, the buildings demolished since Eleanor Coppola took the pictures."  —Mollie O'Neill, "Carlos Villa and Eleanor Coppola," Artweek, March 3, 1973
In Eleanor Coppola's participatory Windows (1973), she proposed that visitors pick up a map and go out into the streets of San Francisco to complete the experience of the exhibition. The windows that were designated by the artist as rich visual pieces for the duration of the show varied considerably in type and neighborhood. Only the street addresses were provided. The viewer was left to discover each storefront or home, with its existing interior composition and changing reflections. There were no stated criteria for how she chose the particular windows, only the sense of her interest in framing the found elements as equivalents to art objects. Instead of making an intervention into the window displays or inserting the artist's own presence, this conceptually-driven work underscored the role of the author in creating a system for observation.
Later that year Coppola collaborated with Lynn Hershman on their landmark project The Dante Hotel (1973–74), which furthered their shared interest in finding alternative ways to present art outside of the gallery context. Each artist developed site-specific work for a room of a residential hotel in North Beach. The audience could check out keys at any hour, voyeuristically dropping in to find Hershman's tableau of sleeping wax figures in Room 47 or intrude upon a real man living in Coppola's Room 50. She had arranged for the poet Tony Dingman to occupy the room for the exhibition and documented how his environment changed over time. She installed a minimal display of Polaroids of the fixed structural elements of the space (sink, door, table, bed) along with the daily changes of his clothing piles, towel, and pillow. As with Windows, the line between what constituted the work or not was questioned. In a note attached to the dresser mirror, Coppola wrote, "I realize that I want to aestheticize all kinds of ordinary acts … elevate them to consciousness, therefore art …"