August 31, 2009
Hidden Treasures of the Ballpark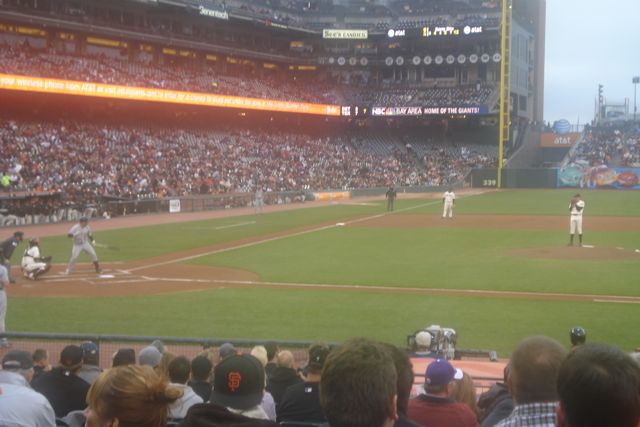 I'm old enough to remember the race between Roger Maris and Mickey Mantle for who would hit 60 homers in a single season, and the crushing disappointment I felt as a child when Maris won, and after that happens, nothing ever feels that bleak again, but also, nothing really interested me ever as much about baseball. But on the other hand my brother, Tim, is super into baseball and on a recent visit from his home in Cooperstown, New York, came to town and we went on a tour of the hidden treasures of the ballpark here in San Francisco. I kept one eye cocked for examples of visual culture in the Bay Area.
My sister Nancy was there too and I took this picture of the two of them at the entrance to the park, they call it Willie Mays Plaza. This statue is by William Behrends (b. 1956) and is probably the most photographed work of art in the Bay Area. Because Mays' number was 24, they have completely fetishized the number down at AT&T Park, and there are subtle reminders of "24" everywhere.
The Behrends statue is lined by 24 palms, and you can see the tourists counting them off on their fingers—dozens of such counts at any sighting. A new friend, Jacob Berezin, suggested the 24 palms of Willie Mays might link up to the famous 7,000 oaks project of Joseph Beuys in Documenta #7 in Kassel, Germany (1982). I think so too, now that I've had time to think about it, Jacob.
If you mailed a letter to the ballpark, the actual address is —24 Willie Mays Plaza.
I'm surprised the producers of "24" on TV haven't brought Keifer Sutherland to torture some minority suspect among these palms. It's a natural.
Anyhow, we went on the only day that I've ever been to AT&T Park on which the Giants won. Throughout the game we were flabbergasted that Zito kept the Pirates down to just one run and allowed only nine players to advance. My brother Tim was impressed, especially since he had just bought Zito (and Pirates catcher Ryan Doumit) for his Fantasy League back home, and now he was getting them over and over live, in person. I brought the binoculars my late mother-in-law left me as a legacy, and wow, it was Zito vs. Doumit, again and again, till the cows came home. And the Giants, 3-2, thanks to extraordinary work by the tiniest man in baseball, Eugenio Velez, brought up from the minors a mere 24 hours before!
The hidden treasure is deep in the luxury box area, where the hallways are lined by the fine artworks of the Giants organization.
I paused at one painting, which is the first I think I've ever seen, that wasn't a reproduction, by the "painter of light," Thomas Kinkade! Not one of his better ones, but too bad they don't play baseball at Christmas and he could have had gaily lit Christmas trees and horse drawn sleighs galloping from base to base. Thomas Kinkade! If Harold Rosenberg was right, his pictures confirm the inflated self-esteem of the bourgeoisie, but trying to photograph this with my brother nearby, I was just like wow, hidden treasure!
It may be that Kinkade, like Zito, is not the phenom he was cracked up to be, but so be it. Worth a look, especially if you're tired of the statue of Willie Mays.
And Tim has always been my hero, for while we were growing up on Long Island, I always wanted to move somewhere, I couldn't figure out where, but he held on to his dream and moved to Cooperstown, vamos Tim Killian!