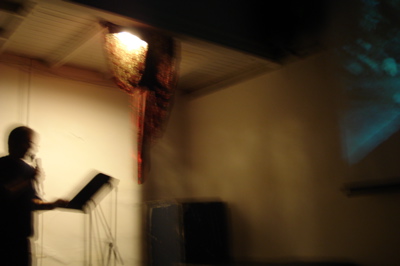 Last week I went to ATA (Artists Television Access, 992 Valencia Street at 21st) to see a program of films and poetry headlined by two old friends Gary Sullivan and Nada Gordon. Gary is a poet and prose writer credited with the invention of flarf, a much talked about movement to reduce the lyric, epiphanic element of poetry and replace it with materials found by chance on the internet—google searches and the like. Nada Gordon is also a member of the Flarf Collective and has written many books of poetry and other sorts of writing. She is the youngest person to appear in the anthology of US poets theater work that David Brazil and I have been editing for Kenning Editions. The program last week was heavy on "neo-benshi," right now the dominant nexus where poetry meets film—rather like Godzilla "meeting" Mothra, or Frankenstein "meeting" Abbott and Costello, there's an element of the gladiatorial about it.
I first heard about the role of the benshi in Japanese and Korean silent cinema at a talk by Walter K. Lew during Small Press Traffic's translation conference, must have been 2001. The benshi, Lew explained, was the man (sometimes a woman, but usually a man) who stood up in the movie theaters and translated what was happening on the screen for the benefit of local audiences. He would do all the voices in different accents and, as well, give his own color commentary. The role of "benshi" expanded and flowered as Asian audiences were exposed to puzzling, foreign Hollywood films, and these well loved figures were hired to explain even the films of their own countries. Benshis became specialized labor and sometimes well-paid, even stars in their own right.
The filmmaker and curator Konrad Steiner was perhaps the first to see the possibilities of bringing this bygone energy into present-day poetry. He got the idea, he tells me, from Midori Sawato, a modern practitioner of traditional Japanese live film narration. "I went to see her perform with Rob Halpern, his friend Earl Jackson, who is a scholar of Asian literature, Lee Azus and Jocelyn Saidenberg, at the PFA in 2002. The only thing i added to it was the part about doing it to modern movies with the sound off, which seemed necessary to make it interesting, since no one (except Guy Maddin) makes silent movies any more."
Before long the poets of San Francisco and the Bay Area were becoming their own benshis, working with film and torquing their contents by adding their own scripts and supplying dialogue written by themselves. Woody Allen did this in What's Up Tiger Lily? but by Thanksgiving 2003 the first "Neo-Benshi" festival was held at ATA. In the past five years the movement, if that's what it is, has grown exponentially, and it would be hard to find a poet who had not either done one, has thought about it, or is longing to find just the right vehicle. Over the years I've seen a lot of them, and even devised one, working with Colter Jacobsen and Dodie Bellamy, to a ten minute clip reel cut out of William Wellman's 1954 disaster epic The High and the Mighty. It helps if you have access to sophisticated cutting techniques, but in San Francisco we have always been able to depend on Mr. Film and Video, Konrad Steiner, who has promoted and "grown" the Neo-Benshi and who told us all how to do the thing on a practical basis. He has taught a generation of poets how to lip-synch.
Konrad later came to understand that the writer and publisher Tosh Berman had coined the term "Neo-Benshi" and used it in a precise sense to describe practices such as that of Midori Sawato–people who were replicating the actual performances of the silent era. "The phrase seemed to stick in people's minds for what we were doing, and i liked that it acknowledged our source, even if we were perverting the practice. So i used it for the second show in 2005, and then it just caught on."
And at the same time, some people are annoyed that a largely Caucasian group of poets and artists are coopting a specifically Asian cultural mode. "I have heard there is consternation with the national specificity of using the word 'benshi,'" says Steiner today. "I certainly didn't mean to create a stir, so I try to come up with catchy new phrases, like 'The New Talkies' or 'Cinema Cabaret.'"  Indeed the show last week was called "Vaudeville Follies."
Erika Staiti, a young poet from the East Bay, was on hand as well. Not as well known as Gary and Nada, she gave an intriguing presentation of Cassavetes' proto indie, A Woman Under the Influence with poor Peter Falk and the eternally Oscar-worthy Gena Rowlands. I asked Staiti how she came to weave in the story of Lot and his wife while narrating and lip-synching this piece.
"I like the roles of complex women that don't fit a box, or that aren't depicted as one extreme or the other, so maybe that's part of what unconsciously drew me to both stories. But admittedly, my initial prompt was just the half-filled salt shaker sitting on the table in front of Gena Rowlands. I had been looking at this scene over and over again (I'd even written a whole other version) before I noticed the damn thing sitting there."
I asked her, "How did you first experience people performing "neo benshi"?"
Erika calls it "movie telling." "My first exposure to the form of movie telling was in Walter Lew's class at Mills. I learned about the history of benshi (or pyonsa in Korean) and have had a continuing interest in learning more about the traditional form of live film narration and how it has changed over the years through different times and cultures. The first pieces I saw were made by some of my MFA cohorts during that time—Sarah Trott's "Mad Max", Jen Nellis' "Dip in the Pool," & Dennis Somera's "West Side Story." Then I discovered that Konrad Steiner had been curating neo-benshi shows in the area. I think the first "neo-benshi" show I attended was at Small Press Traffic a few years ago?"
Have you seen memorable performances?
The first thing that comes to mind is Stephanie Young's Vive L'Amour, where in the final part she cries and breathes audibly along with the character on screen. The first time I saw that I was stunned. I'm mostly excited by any attempt at turning what might be a straightforward benshi performance into something unexpected. I heard Eileen Myles did an interesting piece to Satyricon in LA, using index cards but I didn't see it. I liked watching Steve Benson improvise to a collage of movies Konrad put together. Alan Bernheimer benshi'd the exact lines over the characters speaking them."
That's amazing.  But I had seen some amazing feats going on at these shows.  Poets Roxi Power Hamilton, Rodney Koeneke and David Larsen seemed to have the power to lipsynch their words to the characters' lips without breaking eye contact with the audience—with their backs to the screen!  How did they ever achieve such timing?  If you opened up their hearts would you find Swiss watches ticking? I mentioned none of my suspicions to Erika.
"I'm only mentioning these," she continued, "because for one reason or another they're off the beaten path, but I like them all. The funny ones that re-write new dialogue into the mouths of the characters on screen usually get the most attention from audiences, but I'm into all of them, and just seeing how each person interprets any given scene their own way."
Finally I turned to Tosh Berman to find out how he feels about the neo-benshi movement. He says that the term "neo-benshi" isn't his either, and also that his interest in traditional benshi far outweighs "what can be done with it now," as he puts it. His account of his first encounter with Midori Sawato has me salivating.
"I have to tell you how I was introduced to this world," Tosh says. "I was in Tokyo and I saw this great flyer on a graphic comic place with an image of Buster Keaton. So I went to this show and it was Midori Sawato and it totally destroyed me. What I saw was an organic version of a performance art – but not performance art. It was vaudeville. It was entertainment for the masses. And that was something so pure and beautiful.
"In the early 90's we did a show with her at the japan American Theater–and for sure it was an emotional highlight in my life. One, it was a huge up hill battle to get her over here. I still remember the arguments I have with people who wanted to have a translator on stage with her – and I totally refused to have one. I wanted it to have the feeling like i =had when I first saw her in Tokyo. A total adventure into the unknown.
"At this time and stage I have no interest in people outside that tradition doing benshi performances. The reason is that there is a practical/historical/and Japanese tradition behind the Benshi craft – and I feel that many Foreigners are missing that point."