1974
A 747 crashes due to rough weather conditions northwest of Washington, D.C., killing all 92 people on board.
A bomb in the cargo hold of a TWA flight leaving Athens explodes 18 minutes after takeoff and sends the plane crashing into the Ionian Sea; 88 people die.
All 346 people aboard a DC-10 bound for London perish when the flight crash-lands in a woods north of Paris. The destruction is so severe that only 40 of the bodies are identifiable. Turkish families on vacation, English rugby players, British fashion models, Japanese management trainees, and passengers from a dozen other counties are scattered throughout the Ermenonville Forest in pieces.
There's an iatric glow that erases buildings from my peripheral vision, coupled with a sense that I'm immortal, but not in the good way. Was it in fact a dream? Or, was I really on that plane that crash-landed 12 miles off the coast two years ago?
Metal twisted and water pounded in through cracks in the plumbing, flooded up through the toilet and filled the cabin in less than five minutes, which is actually a long time when they are the last five minutes of your life and tainted with the stink of shit and chemicals.
Rescuers smashed the thick plane windows, but it was too late.
The plane sank. Fish and crab ate my 7-year-old body, and other fish have since eaten those fish.
The images here by Jan-Holger Mauss are from a publication of his work released in 2011. A PDF of that publication can be seen via his Berlin gallery, Laura Mars Group. His medium consists of a preexisting skin magazine and erasure of that magazine. Meticulously he goes through page by page, clearing out all but a few words and rendering various models invisible, leaving only what he wants us to see: the art of editing, the art of saying goodbye.

I don't remember any of this. I don't even know I'm dead. My soul is lankier than my body was, and the afterlife is about the same color as the life before had been. Consequently, I'm going on, assuming that I'm full of operative organs, assuming that I have to still die someday and worried about jeans and algebra: crap that has no meaning in purgatory.
@SFMOMA Twitter Hijack for #SFMOMAslow: Tina Takemoto on Glenn Ligon
In celebration of Slow Art Day, we invited four special guests to commandeer SFMOMA's Twitter account for 30 minutes of live tweeting from the galleries. Artist/writer/theorist Tina Takemoto closed out our week with a slow, close look at Glenn Ligon's White #13. Check out the rest of our hijack transcripts here.
Tina Takemoto is an interdisciplinary writer, theorist, and performance artist whose work explores issues of illness, gender, race, and queer identity.
Diary of a Crazy Artist: Dumb Art Jokes
It's easy to understand modern art. If it hangs on a wall, it's a painting. If you can walk around it, it's a sculpture.
What do you get if you cross a painter with a boxer? Muhammad Dali.
What happened when a ship carrying red paint collided with a ship carrying blue paint? Both crews were marooned.
How many surrealists does it take to change a light bulb? Two. One to hold the giraffe and the other to fill the bathtub with brightly colored machine tools.
Recently a guy in Paris nearly got away with stealing several paintings from the Louvre. However, after planning the crime, breaking in, evading security, getting out, and escaping with the goods, he was captured only two blocks away when his Econoline van ran out of gas. When asked how he could mastermind such a crime and then make such an obvious error, he replied: "I had no Monet to buy Degas to make the Van Gogh."
How many visitors to an art gallery does it take to change a light bulb? Two. One to do it and one to say, "Huh! My 4-year-old could've done that!"
@SFMOMA Twitter Hijack for #SFMOMAslow: Will Brown on Francis Picabia
In celebration of Slow Art Day, we've invited four special guests to commandeer SFMOMA's Twitter account for 30 minutes of live tweeting from the galleries. This afternoon's team of hijackers: Will Brown, a collaborative project based in a storefront space in San Francisco's Mission district. Will Brown is Lindsey White, Jordan Stein, and David Kasprzak. Their slow-looking session on Francis Picabia's L'Homme aux gants (Man with Gloves) included responses from visitors in the gallery, as well as from an open call on Facebook. Here's the transcript. Thanks, Will Brown!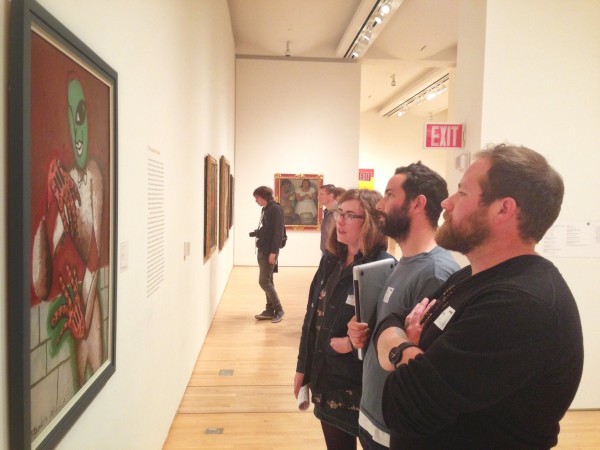 AND…
@SFMOMA a gut feeling, something is different about this Picabia pic.twitter.com/FgWBeI9K4s

— sarah rara (@sarahraraspeaks) April 26, 2013
@SFMOMA Good to know that 'Modernism' is alive and kicking (or waggling it's hands about)

— Ruth Collins (@ruthfcollins) April 26, 2013
@SFMOMA looks like it was painted next year instead of a long time ago.

— Hermes LeTwit (@HermesLeTwit) April 26, 2013
turning off @sfmoma till their "artist hijacked" feed goes away. that's a little too many tweets

— padraic (@radiopadraic) April 26, 2013
if you're a culture maven, you need to be following @SFMOMA as they live tweet visitor responses to art on view. loving their feed.

— Danelle (@danellecheney) April 26, 2013
@SFMOMA What's the story with this tweet barrage? Or is that the wrong question?

— Peter Sowinski (@PeterSowinski) April 26, 2013
@SFMOMA ur shenanigans are inspiring

— sean (@seanfeezy) April 26, 2013
Best answer! RT @SFMOMA: The Post Modern Kool-Aid Man #brickwallandeverything

— Mar Dixon (@MarDixon) April 26, 2013
[Follow @SFMOMA this afternoon around 4 p.m., when our final artist hijacker, Tina Takemoto, takes over]
@SFMOMA Twitter Hijack for #SFMOMAslow: Guillermo Gómez-Peña on Diego Rivera
In celebration of Slow Art Day, we've invited four special guests to commandeer SFMOMA's Twitter account for 30 minutes of live tweeting from the galleries. Here's the transcript from yesterday's hijacker, the legendary Guillermo Gómez Peña.
Born in 1955 and raised in Mexico City,  Guillermo Gómez-Peña came to the United States in 1978. His work, which includes performance art, video, audio, installations, poetry, journalism, and cultural theory, explores cross-cultural issues, immigration, the politics of language, "extreme culture," and new technologies in the era of globalization. A MacArthur fellow, he is a regular contributor to the national radio news magazine All Things Considered (National Public Radio), a writer for newspapers and magazines in the U.S. and Mexico, and a contributing editor to The Drama Review (MIT).
---
[Follow @SFMOMA today at noon when Will Brown takes over. And late this afternoon, when Tina Takemoto takes the reins. Wheeeeeee!]
@SFMOMA Twitter Hijack for #SFMOMAslow: Gay Outlaw on Trisha Donnelly
In celebration of Slow Art Day, we've invited four special guests to commandeer SFMOMA's Twitter account for 30 minutes of live tweeting from the galleries. Yesterday artist Gay Outlaw took the reins to talk about Trisha Donnelly — enjoy the transcript!
And…
https://twitter.com/MsMaggieMayhem/status/327203678106832896
Wonder who #hacked @sfmoma's #TwitterFeed?: "This is an intimidating situation. I've been set free! I've been set free?" Hilarity to ensue.

— Julie M. Gallery (@JulieMGallery) April 24, 2013
I'm in trouble, Gay Outlaw's takeover of the @SFMOMA account is completely engrossing and I've got work to do!

— Amy Hood (@AmyHood) April 24, 2013
@SFMOMA r u ok

— bb8 (@spif_) April 24, 2013
Gay Outlaw is a San Francisco based artist, and a 1998 SFMOMA SECA Awardee.
[Follow @SFMOMA this afternoon for today's live hijacker, Guillermo Gomez-Pena]
Lebbeus Woods, Architect: Dwayne Oyler
Lebbeus Woods, Architect is on view at SFMOMA till June 2. Open Space is pleased to be hosting a series of posts on Woods's work and legacy. Today, please welcome architect Dwayne Oyler.
---
Words Unspoken
Over the last few months, it's been astounding to hear of Lebbeus's vast influence, sometimes from the most unexpected people. Countless students, colleagues, admirers, and scholars have discussed the ways in which their work has been shaped by his work. And of particular note has been the number of architects and educators who cherished the constant architectural dialogue they had with Lebbeus over the years. They've spoken of endless philosophical conversations, debates on the state of our profession, and discussion surrounding the ongoing work of their academic studios. Their comments have led me to reflect on my own relationship with Lebbeus, working closely with him on a series of projects in the late 1990s. Looking back now on those years of work, it's clear that Lebbeus and I had a different kind of relationship — one that relied less on a verbal dialogue and more on the visual and physical work as part of an ongoing conversation.
I first met Lebbeus in the fall of 1996 in his studio in Lower Manhattan. Thirty-two years my elder, he was a towering figure, both within the discipline and as a physical being. Twenty-four at the time, I was timid and quiet, and he often introduced me as a "man of few words." We spoke often of personal issues — our ups and downs, paying the New York rent, and our travels. But unlike what seems to have been everyone else's experience, we spoke little of the specifics of the work. In retrospect, I often wish we had had those conversations, but I find comfort in believing that we had an equally powerful form of communication in the back and forth between models and drawings.
Our first conversation took place standing over a preliminary drawing of Siteline Vienna. Lebbeus spoke very briefly of his interest in the city and the key elements he wanted to engage, while I stood quietly immersed in the power of the drawing. The following week, I produced several small models (a couple are included in the current SFMOMA exhibition), originally built in white museum board. When I showed them to Lebbeus, he offered one of the few comments he ever made directly about a model, talking at length about the issue of intentionality. Because the models were made of museum board, there were several stick-like elements that had a slight bend to them. Although they were minor details, they brought into question whether these elements were meant to bend or not, and Lebbeus felt that there should be no ambiguity about the intentions. Interestingly, he never discussed what was right, what was wrong, what he liked, or what he didn't like. He didn't mention the formal aspects of the model, the color, or the specific forms of engagement with the urban elements. He spoke only of intentionality.
Later work was produced as a simple exchange of visual and physical ideas — Lebbeus would leave me a sketchbook to look through (truly amazing), and I would respond with a model. The years that followed brought roughly a dozen models that were built as part of that dialogue, including numerous Siteline Vienna Interventions, the Terrain Project, and Nine Reconstructed Boxes. With each new model came a greater understanding of the principles that guided that early conversation — both what he said and, more importantly, what he didn't say.
First, Lebbeus was profoundly concerned with the physical. He is often cited as a "visionary," but I find that that title in many ways diminishes his value as an architect. The work wasn't merely scenographic; the decisions were carefully calibrated and intentional, and he wanted that to be clear. He was deeply concerned with the physical world, and the models were a way both to demonstrate that concern and to test ideas in a way that was closest to how he imagined they might exist in reality. Later, while I was teaching with Lebbeus, he often pointed out that even in his most radical projects, he was clearly interested in materiality and tectonics. He encouraged work that began abstractly and conceptually and that had a strong social agenda, but he insisted that the work become manifest through a physical proposal.
He believed that the work was, in a sense, a language. By that I mean, it had its own formal logic — one that, when studied, could be shaped into variants and dialects, while still maintaining its core meaning. I came to learn that there were shapes that just didn't work (notice, for example, the extremely minimal use of acute angles within any single tectonic element), not because Lebbeus said they didn't work, but because they weren't a part of the vocabulary. The nuanced and complex language of his drawings continues to offer something new nearly every time I see them.
Lebbeus believed in true collaboration, and he thought that everyone who had a hand in a project brought something to the table. Over the years, he worked with several other collaborators, usually one at a time for a few years each, slowly chipping away at projects. He had an intense interest in cultivating the ideas of a younger generation, and this can be seen in everything from the collaborative work, to the students he taught, to the profoundly intelligent dialogue that he kept going on his blog. In the work we did together, while I always adhered to the architectural language that he set forth, I almost never built a model exactly the way it was drawn — and Lebbeus's encouragement to expand on the drawings was one of his great virtues. The idea was always that the models kept the conversation moving forward. In fact, he was sometimes surprised by the outcome of the models (I remember his surprise at the curvature and deep sectional character added to the Terrain model). But I was only picking up on a set of principles he had laid out in so many early projects — just another example of a conversation that didn't need to be spoken.
For the incredible generosity, wisdom, and words unspoken, I am forever grateful.
---
Dwayne Oyler is a principal in the architecture and design office of Oyler Wu Collaborative in Los Angeles. He received a Master of Architecture from the Graduate School of Design at Harvard University. He has taught at the Cooper Union in New York and currently teaches design studios at the Southern California Institute of Architecture (SCI-Arc).
All images in this post courtesy Dwayne Oyler.
Follow the Lebbeus Woods, Architect series here.
The Shape of the Archive
"Every rhythm is a sense of something." —Octavio Paz
Filmmaker Jean-Gabriel Périot reuses photographs and bits of old film already set tightly inside the grammar of history. He stacks or lists the sequences of archival pictures into new rhythms and velocities. The films are inflected by the aging body of media, the familiar grain of film stock, or smudgy, blown-out color. Sense is common here, we all know the story.
The weightiest of pieces, almost mammalian, is Nijuman no borei (200000 Phantoms), thousands of stills of the Atomic Bomb Dome overlaid upon one another. There are children, then there are not, there are bicycles, gatherings, stock photos, a shot of architectural repair. While Hiroshima moves around it, the dome stays in the center of the frame, a synecdoche for historical tragedy. The music's heartsick crooner wrenches the moment's unimaginable emotion loose with maudlin piano and tragic lyric. This counterpoint keeps historical emotion at subjective range. It enlarges it, too: "the artifact can provoke the emergence of layered memories, and thus the senses contained within it," says C. Nadia Seremetakis, and through the voice we feel emotion simply for the old photograph.
To view, enter password: jgperiot
I want to think about this work in terms of language, a sorted alphabetics of image. The first part of The Barbarians uses something like visual phasing to interrupt one photo of a group pose with another. A row of soldiers slides in over a group of smiling heads of state at ever increasing speeds. The formal similarities of the shots seem to suggest democratic equivalences — each citizen standing in his social role, erect and representative. As the photos begin to move faster over one another, the effect becomes frenetic, as if the equivalences are consuming the differences. Then the geometry of the screen space gets interrupted by a flash of a handkercheifed face, a face shouting, carrying a gun. The group shots cede finally into full-screen photographs of street protest and riot. First the social face, then its underside — the face who is not equivalent.
What effect does the picture have in protest, what does the riot picture do? Can a photograph of social action be more than the sign of action? I keep going back to something Fulvia Carnevale of the collective Claire Fountaine said in a recent lecture, "An object cannot be moral." Conversely, writing is never not moral, for its concurrence with the law, its coincidence with the body. This paratactic work comes close. Says poet Martha Ronk, "I am not interested in single words set in white space, but joinery." It's what goes between the words that makes a language, more like a ribbon than a series of equivalences. Here, images are shaped in a series, but the interstices remain — small, silent spaces that one enters with one's own sense. What appears in the joinery seems like common sense, a sensus communis. It is not new meaning Périot creates, the meanings in his material are set. Rather, new rhythms are shaped out of the too-muchness of the archive. They create resonances, and thus, the films become active in time.
In Even If She Had Been a Criminal, the grand music and accelerated clips of civic pageantry set up the spectacle of war. Conversely, tight angles let us linger on the information of the human face, which is the most powerful of images. Slowed for our examination: gleeful, youthful men. We watch them with nostalgia. Then the cropping disappears and lets us see a public humiliation, the capture of a French woman accused of sleeping with Nazi men. The same faces our eyes lingered on before now slap, grab, and humiliate a woman, or cheer in the background. It seems that this is what war means, actually. The cruelty of concepts shines through the human face in black-and-white.
---
Jean-Gabriel Périot recently showed nine films at ATA as part of his U.S. tour. Nijuman no borei (200000 Phantoms), The Barbarians, and Even If She Had Been a Criminal have screened widely and won numerous awards.
Calder Yates Reviews Stairwells's Field Trip #3
Calder Yates wrote this review of Stairwells's Field Trip #3, conducted by Sarah Hotchkiss and Carey Lin, in response to an assignment in my dual-degree seminar at California College of the Arts. I invited Calder to share his perspective with the readers of Open Space.
Calder Yates
Compulsive activity comes in many forms: counting specific things (such as footsteps) or [counting things] in specific ways (by intervals of two). Doing other repetitive actions, often with atypical sensitivity to numbers or patterns. A parent once told me that compulsions are most common among children. They eventually grow out of it, she said.
Not so with Field Trip #3, an art event/tour/happening conducted by Sarah Hotchkiss and Carey Lin. The two founded Stairwells, their curatorial project that puts transitional spaces to use for exhibitions and performances. Field Trip #3, as the name suggests, denied the participants the adult-ness and cynicism normally associated with contemporary art.
For those who were able to RSVP for the field trip (the event reached capacity within hours of its announcement), we received an email genially, but mysteriously, asking us to arrive at the Lands End monument at 10 a.m., Sunday, February 10. The email had no other information. Upon arriving, we received an outdoor demonstration of San Francisco building codes for stairs, and a how-to for measuring step dimensions and tread quality. The short presentation illustrated urban designers' and city planners' compulsive awareness that goes into creating stairs, which allows the rest of us to mindlessly pass over them.
After the dry, good-natured demonstration, Sarah passed out hand-held tally counters — the clickers that allow easy, unthinking counting. "Guess the number of steps we will be taking on our tour of the Sutro Baths," she said. We did. She recorded our answers. And off we went on an ambulatory adventure.
After the tour, over Capri Suns and oatmeal cookies, Sarah averaged the numbers on our clickers, determined whose guess came closest, and awarded the two winners one prize each. Hotchkiss and Lin resurrect a field trip's sense of anticipation and liberation from the graves of our adult concerns. Counting steps and measuring distances, we deliberately stepped, Francis Alÿs-like, into the mundane.
In taking advantage of transitional and unconsidered spaces, Stairwells positions itself within a conversation on the politics of public space, mirroring much of Alÿs's work. Alÿs will push a block of ice through Mexico City streets, or walk those same streets gripping a firearm in full view of the public, get arrested by the police, and reenact the same walk the very next day with the police's help. Whereas Alÿs's work contains a powerful social action component, Stairwells is much more playful in its projects. At times, I wonder if their playfulness in their Field Trips does them a disservice, too easily allowing participants to walk away thinking only, "That was fun."
But as I found myself walking away from the Sutro Baths, I was considering the act of walking away, counting my steps, recognizing how high I lift my leg to climb stairs. Who knew that counting your steps could be a lightening experience rather than a compulsive drive?
---
 Calder Yates (b. 1985) lives and works in San Francisco. He received his BA from New College of Florida (Sarasota) in art and political science and is currently pursuing a dual degree — MFA in studio art and MA in visual and critical studies — at California College of the Arts in San Francisco. He has worked for the NYC Office of Emergency Management; taught art therapy programming in hospital oncology units; and collaborated and danced with Club Lyfestile, a neon unitard–wearing dance group based in Philadelphia. He served a residency at Recology in 2012.
File Under: Pranks, But No, Really, Maybe This Is a Good Idea
Some museum staff were recently relocated to new office digs in preparation for our big expansion. Working late one night and perhaps under the influence of too much fluorescent lighting, I took it upon myself to repurpose this prime office real estate. You know what they say, when life gives you some drab, recently vacated office space, make some official-looking signs and carpe diem.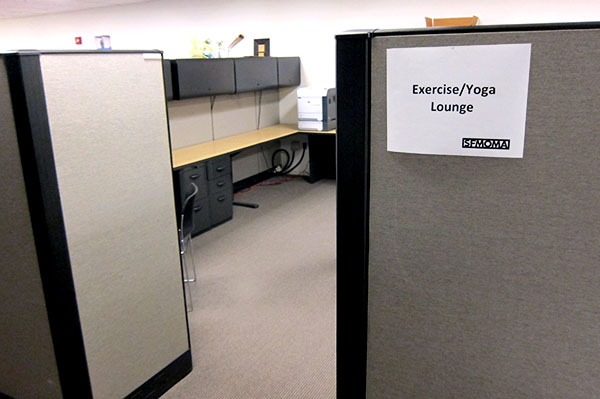 The new impromptu spaces were a hit around the office, both with staff who immediately sensed their dubious provenance (a prankster in our midst!), and those who thought the spaces authentic. What began as a small, lighthearted joke turned into something real — one staffer's Pilates ball made its way into the Exercise Lounge, and another staffer has been using the Meditation Room for his evening prayers since the night of its inception.
After a few days word had gotten around that, no, these space weren't *officially* designated for meditating or yoga, leading other staff to join in the fun by declaring their own playful reclamations of these spaces.
So Snøhetta, if you're reading this, please take note: the people have spoken! In our new building we'd like a place for contemplation and napping; and a place to stretch, practice our handstands, and the occasional human pyramid.  
From the Archive
Wake-up Sauce: Notes on Developing Culture from All Over
November 5, 2015
Reissues
//php $author_page_url = site_url() . '/author/' . $terms_by_date[0]['reissue_editor_picker']['user_nicename'];?>

In 2013, SFMOMA announced its ambitious expansion project. As a means of reflecting on its then-impending closure, grupa o.k. asked several friends and colleagues to imagine their own proposals for a museum in San Francisco.
//php $author_page_url = site_url() . '/author/' . $terms_by_date[0]['reissue_editor_picker']['user_nicename'];?>

In conjunction with Fifty Years of Bay Area Art: The SECA Awards, Open Space hosted a series of in-gallery talks given by SECA Art Award winners. Participating artists selected and spoke on a single work on view.
//php $author_page_url = site_url() . '/author/' . $terms_by_date[0]['reissue_editor_picker']['user_nicename'];?>

Inspired by The Steins Collect and organized by Samantha Giles of Small Press Traffic and Suzanne Stein, this series of readings honored poet Gertrude Stein and her relationships with the visual artists of her day. Each Thursday evening, a contemporary poet presented a reading, performance, or talk on a single artist or artwork on view.