One on One: Stephanie Pau on The 1000 Journals Project
Alongside our new curator "One on One" talks, we'll be doing occasional 'one on one' blog posts, from curators, staff, public, on a particular work or exhibition they're interested in. Today's post is from Stephanie Pau, our Manager of Interpretation.
I feel fortunate that at SFMOMA, educators (like myself) are often treated as collaborators in the making of exhibitions. And sometimes, we even organize our own exhibitions in the drop-in Koret Visitor Education Center. This is the story of The 1000 Journals Project, which I recently co-curated with "Someguy", and which is on view through April 5. Around this time last year, I'd been looking for exhibition and project ideas to complement Rudolf Frieling's then-upcoming The Art of Participation: 1950 to Now. That exhibit, which was deinstalled last month, looked at six decades of artworks in which artists engaged the public as co-creators, and in the process suggesting the radical notion that musuems could be places of production as well as display.
Inspired by the simple elegance of participatory exhibitions and activities crafted by the education teams at the Brooklyn Museum of Art, the Denver Art Museum and at the Victoria and Albert Museum, I hoped to craft an exhibition experience in the Center that not only mirrored the more inclusive atmosphere of Participation, but that counted the contributions of many people as essential to its existence.
Eventually, my shortlist of exhibition ideas included a project I'd grown enamored with several years ago, called The 1000 Journals Project — a simple but brilliant art/social experiment launched by "Someguy." Someguy, who is active in the Bay Area graphic design community, chose, at least for this particular endeavor, to remain anonymous. In a culture as glory-hungry as ours, I admire that Someguy was not only mad enough to launch the project with his own money, but sought to claim none of the fame that might come with it (granted, his identity is among the worst-kept secrets I'm privy to, but still…).
The 1000 Journals Project began in August 2000, when — like Johnny Appleseed — Someguy began "planting" a thousand blank journals around San Francisco — dropping them in bus shelters, park benches, even bar bathrooms. Each book was stamped with only minimal instructions for adding to, sharing, and (eventually) returning the books, and left Someguy's hands with his faint hope that one day he might see what became of them. In the years since the project started, the books have circulated from stranger to stranger, traveling to Palestine, Tokyo, the top of a mountain in Croatia — places many of us may never see in our lifetimes.
The project seemed ripe for some form of exhibition. Within days, we (meaning me and Peter Samis, Associate Curator of Interpretation) cold-called Someguy at his graphic design office with our idea and, lucky for us, he was more than game: he had already been searching for a venue to host an exhibition for the thirty-plus books that finally made their way back "home".
Our primary challenge, and goal, with this exhibition was to find ways to overcome the tacitly understood codes of "behavior" that visitors, myself included, bring with them to the museum. Rule #1 in nearly all but the most progressive arts and culture museums?:  Do not touch.
Working closely with Someguy, in-house graphic designer James Williams, and Senior Museum Preparator John Holland, we developed a concept and design for the exhibition that was, in retrospect, a true anomaly for museums: it emphasized the "anti-precious" nature of the work on display. Vitrines, frames, and pedestals — the common modes of display (and protection) — were not an option. After all, the "art" wouldn't exist if the books were placed behind glass: it was imperative they could be drawn in, written on, touched, added to, or even destroyed, depending on the whims of the participants.
We hoped to break down the rules of engagement from the beginning, with an unusual approach to signage. We installed a grid of blank journals that displayed the sparest outlines of the words in the exhibition title. Our somewhat fanciful conceit was that the rest of the title might be filled in by the doodles and unfiltered entries of visitors, using writing implements we provided on a chalkboard rail beneath.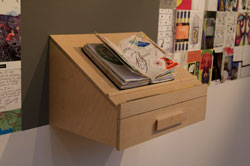 When designing mounts for the journals themselves, we found inspiration in the old-timey editor's desk, whose inclined surface allowed for easy reading and also an ergonomic surface for those who chose to add their own entries. John's design included a drawer at each station, which held pens, glue, stamps, and other ephemera that we hoped might inspire visitors to keep adding to the books. A thin ledge allowed us to place pens on the surface — another signal that these books were as-yet unfinished works-in-progress, and invited participation.
Finally, John recycled the wood from platforms we'd created for The Art of Richard Tuttle and built a lovely communal table that we placed in the middle of the KVEC Lounge area. We wired down four of the journals from the original one thousand and put out buckets of drawing materials, old magazines, and glue.
In the months since the opening, its become clear to me that The 1000 Journals Project exhibition is really about encouraging art-making. The point, for me, was to create an environment in which everybody, not just children, might feel compelled or invited to try their hand at being an artist. It's not unlike the challenges that Erwin Wurm, Tom Marioni, and other artists posed to visitors of Participation — step on a platform; crack open a beer; perform alongside us. In October of last year, I recorded an interview with Someguy, and I think he sums it up nicely: "You don't have to sign your name to it. You could put anything you want in the journal. I just hope that people who participate in the project, or even don't participate, can start letting go of that fear of creativity and fear of being judged."
—————-
Stephanie Pau is Manager of Interpretation at SFMOMA. She studied archaelolgy, not art history, and used to write extensive reports about things she excavated in one-by-one meter pits in tiny towns across California. She has a gift for creating and consuming vast amounts of soup, and can sometimes be found hunting for mushrooms in the Bay Area's lovely oak woodlands.

The Return of Ulysses, video
A short clip to give you an idea of what it's been like:
William Kentridge's restaging of Monterverdi's The Return of Ulysses has been a collaboration with the Handspring Puppet Company of South Africa, and Pacific Operaworks in Seattle, with musical direction by Stephen Stubbs.  More reviews, for the curious, at Dwell, and at SF Classical Voice.
The Return of Ulysses, redux
Last night was the glamorous opening night benefit for The Return of Ulysses. I wasn't there (benefit=$$$$$), but I'm sure it was fabulous. I *was* at the preview/dress rehearsal on Tuesday night: it was  curious, and delightful. The puppets (handcarved) are fantastic-looking and quite expressive, which was a surprise to me, grown-up puppet opera novice that I am, and the opera begins with an interesting set of allusions: Time, Fortune, and Love surround the bed of the dying Ulysses, singing of the fate of 'the human, the mortal', making it clear that life is fragile and rests in hands beyond human control. We witness the drama of this the-gods-they-roll-the-dice in quite explicit terms: The actors in this play are puppets. The story in one sentence: The faithful Penelope awaits the return of Ulysses, who, aided, abetted and manipulated as always by the gods, shows up in Ithaca in disguise, vanquishes some pesky suitors, and proves his true identity to his wife by telling boudoir secrets only he could know.
Above: Penelope offers Ulysses's bow to potential suitors: whoever can bend the bow will win her hand. Of course none can. You can see here (I think) the way puppeteer and vocalist are collaborating on proper manipulation of the puppet. The vocalist is helping to carry the bow.
As I understand it, Kentridge's decision to seat the instrumentalists in a permanent wooden stage frame (resembling an operating theater) is quite innovative for productions of this kind,  solving a logistical problem of early baroque opera:  acoustic proximity of the singers and their accompanists. This operating-theater stage set also has the interesting effect of making the instrumentalists actors in the drama as well as accompanists AND 'audience'. The actual audience tucked away in the dark on the theater seats completes the medical-theater audience—does this implicate the audience as actor too? Not really/not at all. The screen above the instrumentalists is a version of scenery flat, with Kentridge's trademark animated charcoal drawings, as well as surgical footage (of open-heart surgery), barium x-rays, and live-action shots of waves, water, and clouds. With musicians, puppets, puppeteers, vocalists, animations,  and then the supertitles above, it was a lot to keep track of, but it was magical, I must admit.
Sorrily, the rest of the run is sold out.  If I can retrieve a video clip and post it up, I will. Many more pre-show and preview pictures here. Joshua Kosman's Chronicle review is here.
Collection Rotation: San Francisco Opera
Our regular feature, "Collection Rotation." Once a month I invite a local guest to organize lists, groupings, or 'exhibitions' from our permanent collection. To coincide with the opening of William Kentridge's direction of the Monteverdi opera The Return of Ulysses, I asked San Francisco Opera General Director David Gockley to pair bits of opera with a selection of images. Thanks to Jon Finck and Kip Cranna and everyone at the Opera who collaborated on this fabulous rotation. Note: Listen loud.
[audio:https://s3-us-west-2.amazonaws.com/sfmomaopenspace/wp-content/uploads/2009/03/walkure-ride-of-the-valkyries.mp3]
There is an electrifying buzz of excitement in the air as Wotan's warrior-maidens swoop across the sky on their way to collect fallen heroes from the battlefield, soaring above as in the gravity-defying somersaults of these performers.
[audio:https://s3-us-west-2.amazonaws.com/sfmomaopenspace/wp-content/uploads/2009/03/norma_mira-o-norma-duet.mp3]
Moving in perfect, serene synchronization like these elegant swimmers, Norma and her confidante Adalgisa sing in perfect harmony as they swear to be true and faithful friends, never letting a man come between them.
[audio:https://s3-us-west-2.amazonaws.com/sfmomaopenspace/wp-content/uploads/2009/03/suorangelica-senza-mamma_v2.mp3]
Forced to enter a convent after bearing a son out of wedlock, Sister Angelica mourns at the news that her little boy has died: "You died without your mother, not knowing how much I loved you!"
[audio:https://s3-us-west-2.amazonaws.com/sfmomaopenspace/wp-content/uploads/2009/03/faust_a-moi-les-plaisirs-duet.mp3]
Faust, the aged, lonely scholar bent over his desk, disillusioned and weary of his fruitless studies in search of knowledge and wisdom, casts aside his work and excitedly cries out for a new life: "Give me youth, desire, ecstasy, pleasure!" The demon Mephistopheles eggs him on.
[audio:https://s3-us-west-2.amazonaws.com/sfmomaopenspace/wp-content/uploads/2009/03/trovatore-anvil-chorus.mp3]
The ringing and clanging of bright shining metal resounds as the gypsies hammer away at their anvils, fashioning polished steel to the sounds of their singing.
[audio:https://s3-us-west-2.amazonaws.com/sfmomaopenspace/wp-content/uploads/2009/03/butterfly_humming-chorus.mp3]
Subtly shifting colors streak across the sky, turning it purplish and then grey as night falls, and the humming of unseen voices accompanies Miss Butterfly's vigil as she awaits the dawn and the arrival of her beloved.
[audio:https://s3-us-west-2.amazonaws.com/sfmomaopenspace/wp-content/uploads/2009/03/boheme_quando.mp3]
Like Matisse's high-fashion lady in her trendy hat, the high-spirited flirt Musetta prances on the arm of her rich sugar daddy, telling how she loves the admiring glances of men who seem to be undressing her with their eyes.
The Return of Ulysses moves in at Project Artaud Theater
Moving the set in from the truck to the theater.
I ran over to Theater Artaud yesterday afternoon to catch a bit of the unloading of set and puppets for the William Kentridge + Pacific Operaworks + Handspring Puppet Company's restaging of Claudio Monteverdi's The Return of Ulysses.  In case you've missed this: Kentridge has brought us a puppet opera, being presented in conjunction with William Kentridge: Five Themes.  An amusing tidbit: there'd been a lot of rumors here that the puppets were being shipped in kid-size coffins, and until a few days ago we were gleefully awaiting the arrival of some morbid-looking little boxes. But of course, uh, musical equipment and the like: those heavy steel cases, carefully padded: they're called "coffins".
No one had the key to unlock them yesterday, but we have a correspondent onsite at Artaud this morning who promises to try to get some pictures when the coffins are pried open. Many more pictures of the set being unloaded, and of the stage and theater before-the-fact, here. With the exception of Wednesday's Opening Night Benefit Performance, tickets are, sadly, SOLD OUT.  We'll post as many pictures and clips as we can at Flickr and here on the blog. More info on the SFMOMA presentation of the opera here.
And links.
Sarah Hromack on SECA artist Trevor Paglen, at Art in America.
At Rhizome, an interesting interview with Mika Tajima, who will be here in May (with/as New Humans) doing a cool LiveArt project, involving a kind of film set, with the interior architecture of the SFMOMA Atrium recreated as scenery flats and installed in the Schwab room. There will be an on-set lecture by philosopher Judith Butler and a sound performance by New Humans and the entire three-day-long thing, including installation and set strike is going to be open to the public, and shot & edited live by filmmaker Charles Atlas. More on this from me as it gets closer.
Last: I like that Heidi does it, so I will too: some recent favorites on Flickr.
Q/A
This, from recent SFMOMA visitor Dave McLean's Flickr photostream, expresses an emotion one understands people do occasionally feel in the galleries: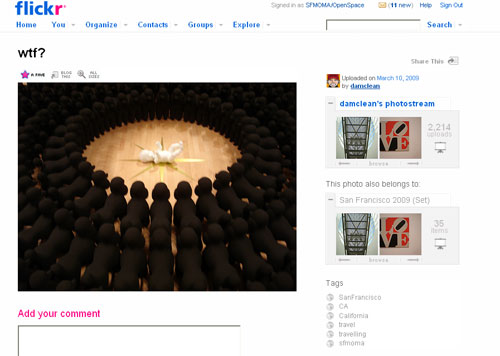 The snapshot is of a work on view now, Kind mit Pudeln (Baby with Poodles), by an artist I like quite a lot, Katharina Fritsch. From this work's description in our collections pages online, here's one answer to the WTF?
Four circles of 224 poodles, arranged in tight, densely packed rings, surround an infant poised on an eight-pointed gold star. The points of the star create eight radiating axes by which the poodles are aligned. The result is a stunning visual play of repetitive patterns in space.
Fritsch's intention is to lodge an indelible visual image in the mind of the viewer, indissolubly fusing experience and memory. Although some viewers may find the poodles threatening, they also appear to be on alert watch, guarding over the child. And despite the ominous atmosphere, a strange undercurrent of humor is present in the quirky oddness of both the poodles and the baby.
Fritsch chose the poodle as a dog that is cute and beguiling but can also be aggressive and mean. Soon after completing the piece, she recalled that a poodle appears in the story of Faust, retold in a nineteenth-century novel by Johann Wolfgang Goethe that is known to every German schoolchild. While out walking, Faust sees a black poodle and brings it home, unknowingly inviting the devil into his study. The baby suggests the innocence of children at birth, untouched by evil and misfortune. As it begins the journey of life, it must face the tensions of civilization and the potential for corruption.
By the by, pics of these poodles are super popular on Flickr right now.

One on One: Jennifer Dunlop Fletcher on Simon Ungers
We've just started a great new onsite series here: curator "One on One" talks. Each Thursday evening at 6:30pm, one of our curators shares their perspective on a single work on view. Talks last about twenty minutes and take place in the galleries: a really great opportunity for conversation with some of the marvelous people on staff here. From Jennifer Dunlop Fletcher, Assistant Curator, Architecture and Design:
I hope you will join me this Thursday night, March 12, in a discussion about an exciting new accession into the Architecture and Design collection, Silent Architecture (2003-2004), by the German architect Simon Ungers. This complex project is a study of four types of civic structure — Library, Theater, Museum and Cathedral — buildings that often employ grandiose architectural gestures in order to become recognizable symbols of the city in which they reside. Comprised of four untreated steel models that recall Minimalist sculpture, austere plans and monumental renderings, Silent Architecture is ideal for opening up several issues within design. I'd like to take this One on One opportunity to address a few ideas, perhaps iconographic architecture, typological analysis, the influence of artistic genres within architecture, or how to display architecture in a museum. Depending on time and interest level, we could unpack one of these topics in depth, or touch upon all them.
Jennifer Dunlop Fletcher
Assistant Curator, Architecture and Design, SFMOMA
The Future of the Past: Utopia/Dystopia 1965 – 1984
The film series The Future of the Past, starting this Saturday, explores the rich cinematic history of imagining the future. Released from 1965 through the iconic Orwellian year 1984, the films present not-too-distant worlds that reflect extremes in the social, moral, and political trends of their time.

A few months ago Frank Smigiel, associate curator of Public Programs, and I discussed creating a film series loosely connected to Patterns of Speculation: J. Mayer H. Frank proposed a utopian theme, centered on 1970s films such as Logan's Run. With that I was off and running…and compiling this list of titles was like a dream fulfilled! I remember many of these films from a childhood spent watching countless hours of television (unsupervised!), encountering these films first either as the late-night movie, on cable TV, or on VHS.  So it's certainly a thrill for me to see them now on the big screen at SFMOMA.
As the program began to take shape and I became more engaged with ways the plots, places, structures and characters of these films might serve my theme, the utopian fantasies soon revealed themselves to be just the opposite: dystopic realities. In these visions of possible futures, the systems ostensibly set in place to uphold pleasurable worlds of harmony and desire fulfilled are soon called into question. And as the systems break down, assumptions about their beneficial or well-intentioned functions also begin to break down: metaphorically, psychologically, socially, technologically. For example, in Westworld (which opens the series this afternoon) a completely manufactured world operates as a place for people to live out their innermost desires without consequence. At the $1000-a-day resort called "Delos" vacationers can safely immerse themselves in historical times and places — the Roman Empire, for example, or medieval England–and the resort is populated with androids programmed to react and respond appropriately to the whims and desires of the paying human visitors who, being far removed from their everyday social and moral restrictions, take advantage of an anything-goes mentality:  sex and murder without regret, moral conflict, or fear of punishment.  The "Westworld" of the film's title  is the lawless American 'old west' visited by two pleasure seekers, played by Richard Benjamin and James Brolin, who give in to the allure of this supposed freedom and are seduced by saloon girls and get in to a shoot-out with the black-clad Gunslinger (played by Yul Brynner in a conscious nod to his character Chris in the Magnificent Seven). However, the technological system supporting the Delos resort begins to fail, and the androids get hostile, refusing sex and fighting back, and the promise of utopia without consequence is shattered in a technological meltdown.
And that's just the series beginning! Shady totalitarian regimes wielding unchecked power; constant surveillance; thought control (love is a big no-no in these worlds!); and social conformity are the salient themes of 1984, Fahrenheit 451 and Alphaville. Logan's Run investigates troubling solutions to overpopulation, while Soylent Green grapples with a global food shortage with a gruesome plan to resolve the crisis. A Clockwork Orange examines the role of behavior control through the eyes of a teenage criminal in a world without law. Woody Allen's Sleeper adds comic relief to what is otherwise a series full of dire messages! And, the otherworldly Fantastic Planet, the only animation we've included, reveals life on both sides of the divide, suggesting that what may be utopia for one group, is dystopia for the other.
The Future of the Past series spans three decades of beautifully crafted works that portray the range of the human condition caught up in the paradox of moral, social and political extremes, played out in highly constructed terrain. The series could have gone on and on, too: for example, I would have loved to also include Shivers (dir: David Cronenberg, 1975), The Stepford Wives (dir: Bryan Forbes, 1975), La Vie est un Roman (dir: Alain Resnais, 1983), or Archigram and Superstudio films. Many of my colleagues here also had great suggestions for extending the series! and I encourage everyone to chime in with thoughts on films you would have liked to see so that perhaps the series can continue remotely…
There's a great piece, none-too-swoony, on the SECA exhibition at the new Art in America site today, by Bay Area independent curator and artist Joseph Del Pesco. Definitely worth a look.
And while I'm here,  I'll also point you to this lovely interview with SFMOMA Senior Curator of Painting and Sculpture, Gary Garrels, still somewhat recently returned to the bay.  He's quite a nice guy, incredibly smart. Gives a great interview, too.
From the Archive
Reissues
Several times a year we reissue a suite of articles from the archive, which is rich, deep, and various.