Saturday's Jarman films: "The Garden" & "Wittgenstein"
We have a fantastic pair of Jarman films this Saturday for your holiday weekend, and I have to say that, for my part, I can think of no better method of recovery from over-familial holiday indulgence than a good dose of hours in the Wattis theater watching movies. Plus, nearly four hours with Tilda Swinton? Who would refuse?
The line-up is: The Garden (1pm) and Wittgenstein(3pm). Gina Basso tells me the pairing is partially a matter of print-traffic timing and partly an oblique reference to "home". Many readers will know that philosopher L. Wittgenstein also took a foray into architecture, designing a house for his sister, with architect Paul Engelmann, at the sister's behest. Jarman, on the other hand, was a gardener as well as filmmaker: when he was diagnosed HIV-positive, he bought a fisherman's cottage in Dungeness, Kent, and spent the years from 1986 until his death in 1994 designing and building the garden which surrounds it, and where the The Garden was shot.
Thanks to one Lady Vervaine for this picture I lifted from Flickr, of Jarman's real garden (LV describes the picture as a recreation of an important scene in the film, so if you're here Saturday, look out for it).:
There's also a cool Flickr set of the whole garden here, by someone named Angus Fraser. I was surprised to see the pictures, as in my ill-traveled American ignorance I never think of any part of England as looking so inhospitable & bleak as a Southern California desert. There's a lot of rock, stone, and cactus here, and it's illuminating to note that Jarman set his film here as a garden of Eden. And keep an eye out for the greying hull of some sort of small ship, set against an awfully blue & wonderful sky.
As to Wittgenstein, this is Jarman's depiction of the life and philosophy of. IMDB describes the film thus:
A dramatization, in modern theatrical style, of the life and thought of the Viennese-born, Cambridge-educated philosopher Ludwig Wittgenstein (1889-1951), whose principal interest was the nature and limits of language. A series of sketches depict the unfolding of his life from boyhood, through the era of the first World War, to his eventual Cambridge professorship and association with Bertrand Russell and John Maynard Keynes. The emphasis in these sketches is on the exposition of the ideas of Wittgenstein, a homosexual, and an intuitive, moody, proud, and perfectionistic thinker generally regarded as a genius.
Original screenplay by literary critic Terry Eagleton was heavily reworked by Jarman during production.
A review of the film is here (at my favorite cinema blog, Only the Cinema) and here you'll find a review of both screenplays, which were published together by the British Film Institute.
If you want to do a little prep but don't feel like trying to get through the Tractatus after your turkey and stuffing, you can watch a nine-part mini YouTube course (a bit weird) re Wittgenstein on language & logic here.
And here's a short clip from the film itself, which gives a great sense of the mood, the style, the discomfort, the themes, AND Jarman's humor, all in under two minutes:
We've been promising roundtable discussion on the Jarman films, and will give you a dose of it starting early next week with a lovely essay by James Mackay, producer of many Jarman films, and further conversation as the week continues. Come join us in the theater and talk a bit with us here on the blog. You can find all the postings on Jarman (including a week's worth of music videos) here.
Happy Thanksgiving.
May it be generous and may it be warm.  Go easy on the butter, heavy on the cream. xo, SS
Call for experts in the impossible: this Saturday
If you're around this holiday weekend and harbor both a special talent for achieving the impossible and the lecturing skills to teach someone how to achieve that miracle themselves, a group of SFAI graduate students wants to hear from you. In conjunction with The Art of Participation, they are organizing an "Art of How-To: Intuitive, Impossible, and Absurd" mini-lecture hour in our Koret Visitor Education Center (slash "D-Space") on Saturday afternoon, inviting you to come down and educate the public with your special wisdom. Everyone's welcome to propose a topic, and selected presenters will be given five minutes to discourse. They'll be shooting video and it's possible we'll post some of the results here on the blog.
Contact info and more details are here.
Derek Jarman: Throbbing Gristle "TG Psychic Rally in Heaven"
The last of my week of Derek Jarman music videos. Jarman made this video for Throbbing Gristle's "TG Psychic Rally in Heaven" in 1981. Fair warning, it's quite violent and explicit in language & content.
I think Jarman's broken flashes of images complement TG's challenging, avant-garde music.  Peter Christopherson, who played what we could call the percussion for the band, later went on to form the band Coil, which Jarman employed for soundtracks to many of his films.
Derek Jarman: The Smiths "Ask"
More Jarman videos! This is one of several he made for The Smiths, Ask, from 1986.
Derek Jarman's films and The Smiths' songs share similar motifs; this video is a prime example. Both reflect on a fractured world. While Morrissey croons, "If it's not love then it's the bomb that will bring us together" Jarman's video depicts romantic encounters in front of an abandoned warehouse. The skeleton dance partner makes the entire scene into a dance macabre: the youth celebrate but the world falls to pieces.
Derek Jarman: Pet Shop Boys "Rent"
A week of Jarman vids, continued! Jarman made three videos for the Pet Shop Boys: Rent, It's a Sin and a set of projections for the band's live shows. Today I have posted the video for Rent but I encourage you to seek out the others, as they are phenomenal as well.  I love the lyrics of this song, they are so to the point.
Derek Jarman: Marianne Faithfull "The Ballad of Lucy Jordan"
Hi, it's Megan. We've got a Derek Jarman film series on right now, continuing through November and much of December. Some of you will know that, especially early in his career, Jarman made a lot of music videos. All this week, I will be posting some of my favorites.
To complement Jarman's rebellious attitude, I thought I'd start off the week with the rebel Marianne Faithfull. Jarman created this video for her song "The Ballad of Lucy Jordan" (1979). It's a beautiful and haunting video. As an added plus, she's a babe.
free hangover
Dear reader, this is Tammy.
Last night, as part of the ongoing exhibition The Art of Participation, SFMOMA hosted the first in the series of the Tom Marioni salons: The Act of Drinking Beer with Friends Is the Highest Form of Art. Bringing this simple act into a museum setting required the building of a bar (which I am petitioning to keep well-stocked beyond the show) in the Koret Center, ordering twelve cases of Pacifico beer from the local Bevmo, the completion of many pink and green logistics forms, the administration of drink tickets, and the acquiring of a bartender for each night. Last night's barkeep was Curator of Media Arts, Rudolf Frieling. It was a special occasion, as it is the only time I've ever ordered a beer from my boss.
The place filled up quickly with friends and we all drank (with gusto). We were doing it! We were creating art and I could feel it: tiny carbonated bubbles and a general loosening of the seams. The game of quarters was not attempted, but the idea was bandied about. Tom Marioni walked to the podium and gave his address. He was loaded–with jokes. And read with a slight impish nature. A poet appeared on the scene. He had a sign that read "Poems for Sale." I handed him a dollar. He asked, "What would you like a poem about?" I thought and said "A dark window." He licked his lips, took a glug from the bottle and began typing on his little typewriter. He finished and handed me a slip of paper with my poem on it. It read:
mac
book
night
dot com
aka wall
Well worth every cent!
The next salon will be Thursday, November 20th at 5pm. Anne Colvin is bartending, Bill Morrison is the guest reader. I hope you can make it.
FREE BEER!
For serious, I have been waiting to post that headline for over a year.  Starting tonight! and for the next three months, we are hosting Bay Area conceptual artist and sculptor Tom Marioni's weekly salon, The Act of Drinking Beer with Friends Is the Highest Form of Art. If you're not familiar with this work, Tom has been organizing these salons, where friends and artists can convene, converse and drink beer, in his studio and elsewhere, for more than two decades.
Each week we'll have special guest bartenders and readers, & I'll try to keep you apprised: tonight's bartender is Rudolf Frieling, Curator of Media Arts, and the reader is Mr Tom Marioni himself. Do come by! It's free, with museum admission of course; keep in mind that space is limited (see below). Entry will be on a first-come, first-served basis. Like any drinking establishment, you must be over 21 & carrying vaild ID.
Here's Tom's FREE BEER sculpture as we have it in our collection (and as you can see it on view now on the fourth floor as part of AoP)—the piece is made from the detritus of the salon as it was exhibited/hosted here at SFMOMA in 1979:
Here's the bar set-up in the Koret Vistor Education Center, ready for bartenders to dispense FREE BEER and for art lovers and friends to drink it happily and I hope noisily together:

And here are the still QUITE EMPTY (as of today) shelves which will hold and store our many emptied bottles of beer: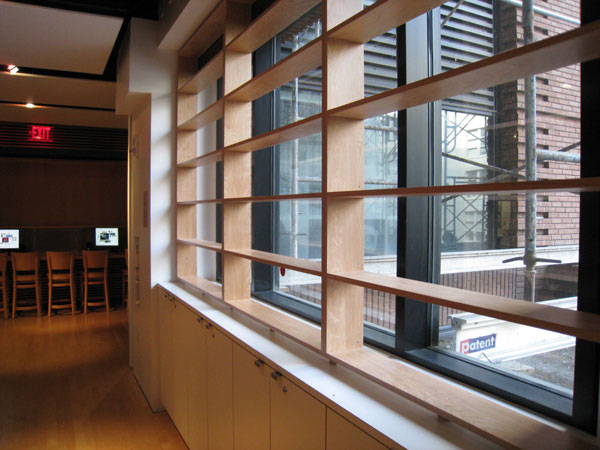 No one lacks expertise in this particular form of art, or if you do, now's a great time to hone your skills. Come on by, or, we hope to see you soon!
From the Archive
Reissues
Several times a year we reissue a suite of articles from the archive, which is rich, deep, and various.